The Suriname authorities  today informed the Guyana Police Force that they have arrested Kevin `Long Hair' Narine, the police said in a statement.
He is in custody and has been positively identified.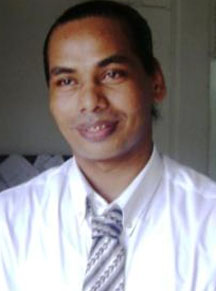 Narine had escaped from the New Amsterdam Prison on June 11, 2011, while serving a sentence of nine years for robbery under arms.
It had been suspected that he had immediately fled to Suriname as he is intimately acquainted with backtrack routes and Surinamese waters. He has also spent a lot of time in Suriname.
The Ministry of Agriculture this afternoon welcomed his recapture.
A statement from the Ministry said  "Agriculture Minister, Hon. Robert M. Persaud welcomes the recapture in Suriname of convicted pirate Kevin Narine, who broke out of the New Amsterdam prison last month.
"Since his escape a spate of hijackings took place resulting in the terrorizing of fishers along the Corentyne Coast. It is anticipated that Narine's recapture will put a dent into the increasing incidents of piracy and will allow artisanal fishers to ply their trade without fear.
"Meanwhile, Minister Persaud would like to take this opportunity to commend our neighbouring Suriname and their law enforcement agencies for their valiant effort and the stepping up of the anti-piracy campaign. "
Days after his escape the Berbice coast was terrorised by a spate of piracy and fishermen expressed fears about returning to sea.
Security sources have pointed out that Suriname has been playing a major role in apprehending Guyanese suspects. Narine is now part of a growing list that also includes the notorious drug trafficker Roger Khan.
Around the Web