Seven persons including the alleged female mastermind and her nephew were this morning charged in connection with Tuesday's multi-million dollar heist at the Bel Air Gardens home of Malcolm Panday and after appearing in the Georgetown Magistrate's Court, they were remanded to prison.
Those charged are Chandraradha Rampersaud of Lot 8 Pigeon Island, East Coast Demerara; her nephew Hardat Kumar of Kitty; Jermaine Mitchell of 2115 North East La Penitence; Rabindranaught Seemangal of 100 Shell Road, Kitty; Aubrey Simon of 1414 Princes Street, Lodge; Rayon Jones of Lot 7 Hardina Street and ex policeman Shawn Hinds of 552 East Ruimveldt.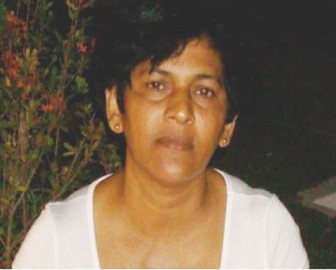 The seven were jointly charged with two counts of robbery under arms to which they were not required to plead and the charges were read to them by the Acting Chief Magistrate Priya Sewnarine-Beharry.
According to the police's case, the seven being armed with a gun robbed Annie Ramsood of one million dollars cash and $29,000 US which is equivalent to $5.8 million. Rampersaud is the mother of Ramsood.
On the same day also being armed with a gun, they robbed Ramsood of one Blackberry cellular phone and cash together valued $427, 000.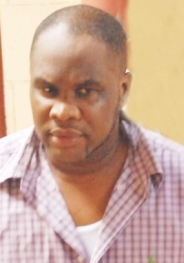 Mitchell, Simon, Jones and Seemangal are jointly charged with being in possession of eight 9 mm rounds and one 9 mm pistol without being the holder of a firearm licence. The quartet pleaded not guilty to these two charges.
Attorney at law Vic Puran who represents Rampersaud and Hinds and George Thomas who represented Simon made unsuccessful bail applications. The others were unrepresented in court.
Rampersaud was the only defendant  who displayed signs of shock when the charges were read. The courtroom was packed to capacity with relatives and curious persons. More were standing in the corridors and outside the court.
Hinds is a former employee of Ramsood and Panday.
The woman along with her husband, their children and household staff were in the house when the two men, one armed with a gun stormed in just before noon.
Panday managed to slip away and summon the police from a neighbouring residence, while the bandits forced Ramsood to open a safe from which they took cash.
The gun was also placed to the head of relatives, including the children who are all said to be still traumatized.
Ramsood and her husband had said in a statement that relatives planned the robbery in retaliation for an 18-month old $1.4 million theft which landed a relative and her boyfriend before the court. The latter two were also detained by the police following the incident but sources say they have been released.
Five of the men charged were arrested within an hour of the robbery being committed. Police cornered three of them following a high speed chase which ended in the compound of the Ocean Spray Hotel on Vlissengen Road where there was a shoot-out with police.
Hinds and another person were detained at Front Road, West Ruimveldt sometime later.
Around the Web