Sacked Georgetown Public Hospital (GPH) doctor, Vishwamintra Persaud has been taken into police custody in West Berbice over allegations that he sexually molested a 13-year-old girl.
Reports are that the girl who is in the custody of the Child Care & Protection Agency (CCPA) was examined by doctors.
Stabroek News learnt that officers from the CCPA received the information earlier this year about the alleged assault which reportedly occurred on two occasions – in November last year and again in February.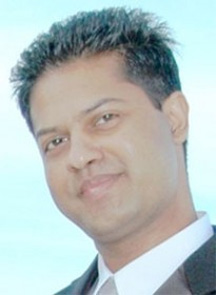 However, they did not have the details about the victim to pursue the matter. According to sources, it was not until Wednesday that the officers received a call with the directions for the victim and they immediately visited her home.
Crime Chief, Seelall Persaud yesterday confirmed to this newspaper that the doctor is in police custody and said investigations are continuing.
Dr. Persaud of Bush Lot was fired from the GPH after information surfaced that his licence was terminated in the US because he was a child sex felon.
His lawyer, Joel Persid-Edmond told this newspaper last evening that the police informed him that his client would not be charged today. He said Dr. Persaud was taken into custody at the Fort Wellington Station around 3 pm on Wednesday.
The arrest, he said came one day after an employee who worked at his shop at Bush Lot was fired reportedly for embezzlement. It is alleged that the employee had threatened "that she would get him in trouble if he should fire her at anytime."
He said too that his client had no knowledge about the allegations which seem to stem from family problems.
The lawyer pointed out that after his client's licence to practice was revoked he took over a business that was being run by relatives for over 40 years.
He said some persons were apparently annoyed that his client was in control of the business and saw the allegations as "a way of getting back at him." He said though that "we are prepared to battle it."
Persid-Edmond said the police took Dr. Persaud to his business place three hours after he was held to investigate an allegation that he was conducting a secret clinic.
However, they found no evidence to suggest that.
According to New York Department of Health documents, on April 18, 2008 Dr. Persaud was found guilty, based on a guilty plea, of "attempted course of sexual conduct against a child in the second degree."
On June 11, the same year, he was sentenced to an eight-year order of protection, ten years probation, fined US$25,500 and various fees and surcharges.
Around the Web