A suspect in Monday's beating to death of miner Earle Austin has been arrested and police are looking for two more, according to Crime Chief Seelall Persaud.
Persaud, in a brief comment, also said that investigations into this latest E&F Division murder were continuing.
Police issued a statement on the case yesterday, saying that they were investigating the circumstances of the man's death.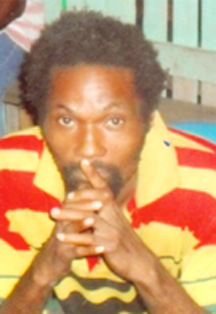 Austin, of Nabacalis, East Coast Demerara, was found tied next to a tree at 14 Miles, Issano.
Distraught relatives had told Stabroek News on Wednesday that they were told Austin had been accused by three men of stealing a brush cutter. They said that he was tied to a tree with rope on Monday morning and severely beaten by the men, who were all armed with guns.
They said that based on their information, the man died still tied to the tree, begging for a cup of water. When the badly bruised body was brought to the city on Wednesday, the rope was still wrapped around his hand and foot. There were injuries to the head and one of his hands and feet were broken.
Meanwhile, the dead man's sister Marlyn Cort, when contacted yesterday, said that she and other relatives have met with police officials who said that a team of ranks were still in the area conducting investigations. The woman said she is trusting in God that all the perpetrators involved would be caught and brought to justice. She said that relatives are anxiously awaiting the completion of the post-mortem examination and the funeral before deciding how to proceed.
Relatives said that one of the man's assailants was a resident of Linden while the other two belonged to an East Coast Demerara village. With tears in their eyes they called for justice, while saying even if he had committed the theft, he should not have been tied up and beaten to death.
Around the Web