Convicted pirate Kevin 'Long Hair' Narine, who escaped with three others from the New Amsterdam Prison last month, has been captured in Suriname.
The Guyana Police Force in a press release yesterday afternoon said that their counterparts in the neighbouring Dutch territory had informed them that Narine has been arrested. The release said that the convict has been positively identified and was in custody.
GFC Nieuws yesterday reported that while there was no official confirmation from authorities, it learnt that Narine was arrested near Paramaribo. The Suriname News agency did not say when or under what circumstances the arrest was made.
According to GFC Nieuws, the 32-year-old, who was previously arrested on Suriname soil, was wanted in that country as well as in Guyana. It is unclear when Narine will be returned here.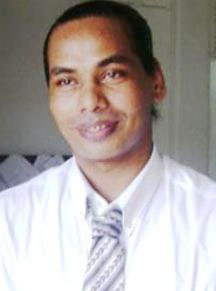 He was serving a nine-year prison sentence at the time of his escape. It is expected that in addition to charges stemming from the prison break, he will also face fresh piracy charges.
Narine was implicated in the spate of pirate attacks that occurred along the Berbice Coast on June 30, when fishermen were robbed of engines, ration and fuel. Three masked pirates, armed with guns, crammed fishermen into one boat and later released them at the mouth of the Berbice River the following night. Following the attacks, fishermen on the Corentyne had expressed fear at having to return to sea.
The Home Affairs Ministry in a statement had said that "the long arm of the law" would soon catch up with Narine "and cut short his ill-gotten freedom."
In the early hours of June 11, Narine, a West Coast Berbice resident,  along with Rickford La Fleur of  and Vijay Seenarine of Skeldon and Vinod Gopaul of Black Bush Polder, broke  out of the prison. Preliminary reports indicate that the men broke out of the prison by cutting the floorboards.
Thereafter they made their way through a double door and exited from the northern part of the prison. They subsequently scaled the prison fence and made good their escape.
The escape occurred although there were several working cameras in the prison compound at the time. It was later discovered that the prison officer, who was supposed to be manning the cameras, was asleep at the time of the escape.
A joint services response was later coordinated to pursue and recapture the escapees. A Board of Inquiry was also set up to investigate the breach.
Just over two weeks later Seenarine was arrested by police, who found him walking along the J.C. Chandisingh Road in Rose Hall. Police made the arrest on a tip off.
Around the Web