Chandraradha Rampersaud and six alleged co-conspirators that include ex-policeman Shawn Hinds were yesterday charged with Tuesday's $7M Bel Air Gardens robbery.
Appearing before acting Chief Magistrate Priya Sewnarine-Beharry at the Georgetown Magistrates' Court were Rampersaud, Hinds, Jermaine Mitchell, Rabindranauth Seemangal, Aubrey Simon, Rayon Jones and Hardat Kumar, who were all refused bail and remanded to prison. Rampersaud is mother of the victim, Annie Ramsood.
They were not required to plead to the two indictable armed robbery charges read against them. The charges state that on July 12, at Bel Air Gardens, being armed with a gun, they robbed Ramsood of $1.4M and US$29,000 (equivalent to $5.8M GYD), totalling $7.2M. They were also accused of robbing Ramsood of a Blackberry Smartphone and a quantity of cash, valued $427,000.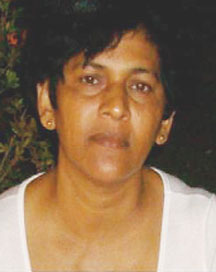 In addition, Mitchell, Simon, Hinds and Seemangal were arraigned for having in their possession a 9mm pistol and eight rounds of 9mm ammunition, without being the holders of in force firearm and ammunition licences at the time. The four men pleaded not guilty to the weapon and ammunition charges.
Simon was also separately charged with attaching a false number plate to a vehicle. He denied that on July 12 he had a false ID number plate, PKK 3700, on a vehicle, knowing same to be false. The vehicle was used as the getaway car in the robbery.
Rampersaud, 50, is a domestic worker and resides at Lot 8 Pigeon Island, East Coast Demerara; Hinds, 40, is a former policeman and taxi driver and he resides at Lot 552 East Ruimveldt; Mitchell, 20, a carpenter, resides at Lot 2115 North East La Penitence; Seemangal, 20, resides at Lot 100 Shell Road, Kitty; Simon, 21, is a final year student of the University of Guyana and resides at Lot 1414 Princess Street Lodge; Jones, 19, lives at Lot 7 Hardina Street, Werk-en-Rust; and Kumar, 30, lives at Lot 23 Owen Street, Kitty.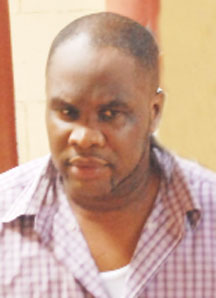 The accused, who appeared expressionless as the charges were being read to them, were taken to court by a large police escort.
Before a packed courtroom, Sergeant Lionel Harvey, who presented the police's case to the court, noted that Rampersaud, Ramsood's mother, knew that money would be at her family's Bel Air home and contacted Kumar and planned the robbery.
He said the two contacted their other co-accused, who went to Ramsood's home and robbed her and her family at gun-point.  Her children and her household staff were also in the home at the time of the invasion.
According to Harvey, Ramsood's husband, businessman Malcolm Panday, was at home at the time of the robbery but managed to escape and summoned the police. As a result, Harvey said when the accused left the premises, the police gave chase and after 25 minutes cornered the defendants at the Ocean Spray Hotel, located at Vlissengen Road. The accused persons were subsequently arrested and charged. According to Harvey, they were positively identified by the complainant.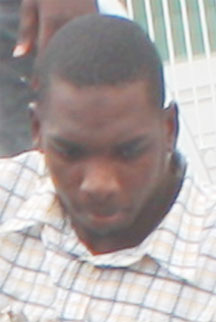 Police had said that during the interception in the compound of the Ocean Spray Hotel, Vlissengen Road, ranks exchanged gunfire with one of the four men who fled the getaway vehicle. They also said three of the men were arrested and an unlicensed 9mm pistol with 8 rounds and a sum of cash were recovered. After further investigations, police intercepted a car, PMM 9436, at Front Road, West Ruimveldt, Georgetown, and arrested three other men. They also recovered a further sum of cash.
Attorneys Vic Puran and George Thomas tried in vain to get bail for three of the accused.
Puran, who represented Rampersaud and Hinds, said that the prosecution had no evidence linking his clients to the charges levelled against them. He contended that all the police had was a statement from a co-accused implicating his clients. This, counsel argued, was non-admissible as the information "is not coming from a witness who can testify in the matter." For this reason, the lawyer said that his clients should not have been charged in the first place. He then made an application for them to be admitted to reasonable bail.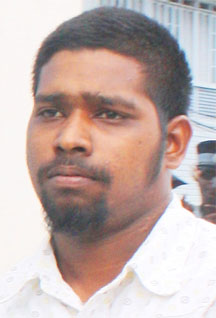 Thomas, who represented Simon, also requested that his client be admitted to reasonable bail on similar grounds. Thomas also requested that his client receive medical attention, after claiming that he was beaten by the police. This request was granted.
The other accused were unrepresented.
Harvey objected to the accused being admitted to bail, while noting the seriousness and prevalence of the offences. He asked too that the court take into consideration the fact that a gun was used in the robbery and that the complainant's home was broken into.
Further, Harvey pointed out that the defendants were positively identified by the complainant and that the prosecution was in possession of caution statements and oral submissions, made by them, which would be presented to the court at the appropriate time.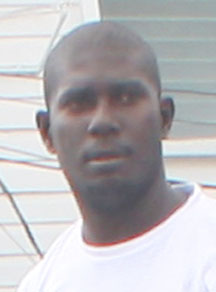 Additionally, he said that further legal advice is to be sought regarding the issue of the statements given by the co-accused—a point that Puran questioned.
Harvey also argued that if granted bail, there is a likelihood that the accused would not return to stand trial.
After listening to the case, the Magistrate informed the defendants that they would be remanded to prison until July 28.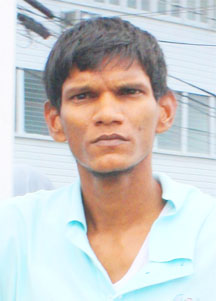 Around the Web