Thirteen-year-old Clinton Warde, a student of President's College (PC) who was diagnosed with a brain tumour, has recently returned home after undergoing a successful surgery at the Sick Kids Hospital in Canada.
Clinton was performing excellently at school, but had to quit shortly after the diagnosis was made in February 2010, because of the severe headaches he experienced. He also suffered blurred vision.
When he learnt of his condition, he was devastated and thought that his dreams of becoming a doctor would be shattered.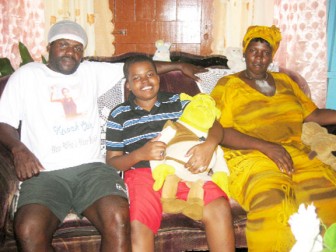 At the time, he was a first form student and had won the Principal's Award for achieving 86% in the first term. He had seen himself doing even better. There is now hope for him because he will be back at school in September.
At his Paradise, West Coast Berbice home recently, he told Stabroek News that catching up with the work would be no problem for him.
His parents Clinton Sr. and Shundell Warde were present during the interview but the child was quite capable of explaining about the surgery and his 10-month stay in Canada.
He told this newspaper that the surgery was performed on August 12 last year and that "everything went well." He said too that the headaches and pains were over after the operation, but he was still not seeing properly.
He had to visit the clinic once per month for the doctors to determine "if the tumour had affected anywhere else."
On December 15, a smaller tumor was detected and radiation therapy was recommended to get rid of it. The six-week therapy was conducted five days per week at the Princess Margaret Hospital.
Following the therapy, Clinton's vision improved but it's still not normal.
He said he "saw an eye specialist and he recommended some devices that would help me to see far and to read better."
He also has to avoid the sun or wear sunglasses whenever he is exposed to it.
The surgery cost US$65,000, which the child's parents raised with the assistance of the government, the Caribbean Children's Fund and other kind-hearted persons, some of whom deposited money to a special bank account number that was published in this newspaper.
The radiation therapy cost another US$15,000 and a foundation made a down-payment of US$2,000 while the outstanding amount was being raised.
Shundell, a teacher, said her son also has to join a clinic at the Georgetown Public Hospital (GPH) where he would be seen by a neurosurgeon.
She had accompanied him to Canada and spent a few weeks before returning to her job and to the Cyril Potter College of Education.
The Sick Kids Hospital also needs to monitor the child's progress and requires a Magnetic Resonance Imaging (MRI) every six months.
Clinton was grateful to his aunt Ivorine Hamer and his uncle Ryan Hamer for the great role they played in ensuring that he got better and for taking him "sight-seeing." He also thanked his parents and everyone else who assisted and prayed for him. His father also thanked the government, the foundations and everyone for their kind support.
Around the Web