Argentine Navy Sail Training Ship "Libertad" will today begin a four visit in Georgetown today, the Embassy of the Argentine Republic in Guyana announced.
"The main purpose of this visit is to convey a message of peace and friendship on behalf of the people of Argentina to the people of Guyana and, at the same time, to salute the 2011 Pro Tempore Presidency of Guyana at the Union of South American Nations (UNASUR)," a statement from the Embassy said.
It noted that this is the vessel's maiden voyage to Guyana and the first visit ever of a ship of its kind to the country.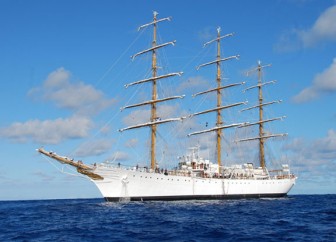 "The fundamental mission of the frigate "Libertad" is to train the future officers of the Argentine Navy by instilling the virtues of men and women of goodwill and transmitting the knowledge of navigation through the seas of the world, carrying a message of peace and friendship to all the nations it visits, a message which is deeply-rooted in each member of the crew," the statement said. Each year, it noted, the ship sets sail on a five -month training and instruction voyage, carrying on board the cadets of the last year of the Argentine Naval Academy, before graduation.
In the year 2001, the "Libertad" was appointed Ambassador of the Argentine Republic, in an honorary character.
The personnel of the ship, currently on its XLII Instruction Voyage under the command of Navy Captain Guillermo Tyburec, is composed of 27 officers, 184 non-commissioned officers, 90 midshipmen, out of which 25 are women and instructors of the Naval Academy. Accompanying the Argentine crew are 9 cadets of the Uruguayan Naval Academy and 14 other cadets from Brazil, Bolivia, Chile, Paraguay and Panama.
The Embassy said the route of the 2011 voyage started in Buenos Aires, Argentina, having visited the ports of Mar del Plata (Argentina), Rio de Janeiro and Recife (Brazil), Paramaribo (Suriname) and continuing, after its stop in Georgetown, towards the ports of La Guaira (Venezuela), Cartagena de Indias (Colombia), Guayaquil (Ecuador), El Callao (Peru), Valparaiso and Punta Arenas (Chile), Ushuaia, Puerto Madryn and Bahia Blanca (Argentina), and finally Montevideo (Uruguay), last stop before returning to Buenos Aires, scheduled for October 22.
Around the Web