Fishermen in Berbice are rejoicing at the news of Kevin 'Long Hair' Narine's capture, saying that their prayers have been answered and that they are now free to resume normal fishing.
Reports out of Suriname are that the lawmen spotted Narine in a boat on Thursday evening and traced him until he reached his hideout. They then waited until he exited the boat to capture him.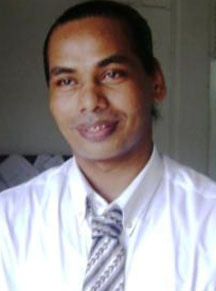 The men told Stabroek News last evening that they had received the good news from other fishermen in the neighbouring country shortly after his arrest. According to them, "We believed the news because we have confidence in the Suriname police. We want to thank them for capturing 'Long Hair' and saving the Guyanese fishermen."
They said too that "he [Narine] had no sympathy for the fishermen; he didn't only steal our fish, fish glue, engines and so but he destroyed our properties."
According to them, "although we still used to have piracy [while Narine was in jail] we never used to get so much pressure."
The fishermen were pleased that "Suriname police did a good job again to catch 'Long Hair'."
They said too that the "Ministry of Home Affairs had said that the 'long arms of the law would catch up with him' but Suriname long arms catch him. We want to see how Guyana would handle the situation now."
The law enforcers in Suriname had caught Narine in 2008 and the fishers lamented that "Guyana allow him to escape."
At the time of his escape on June 11, along with three others he was serving a nine-year sentence for armed robbery, related to attacks of piracy. Following an attack on June 30, when three armed, masked pirates reportedly headed by Narine, terrorized and robbed about nine boats, most of the fishers were afraid to go out at sea.
The pirates had also threatened to kill them and burn their boats if they "give information." They also related last evening that Narine had identified himself and sent threatening messages to some of the other fishermen who had given evidence against him at court.
He even told a crew member that he was "coming back to deal with his boss man."
The sea bandits had also fired several shots into the air and one of the bullets had hit a fisherman in the shoulder. The incidents occurred just off the coast between Eversham and Bush Lot.
They also rammed a boat, causing it to sink after learning that it belonged to a fisherman of the upper Corentyne who was among the persons who had identified Narine following an attack. That was the second boat to have sunk for the man in eight months as a result of piracy.
The pirates had crammed about 37 men into the boat and they kept travelling until they reached the mouth of the Parimaribo River  the following evening.
There they met three fishermen from Suriname with a smaller and faster boat and they placed them into the boat with the other men. They escaped in the smaller boat.
Some fishermen who were brave enough to go out and fish after that attack because that was their only means of earning a livelihood did not venture out too far.
They said they "now feel free to go out" and yesterday morning most of them started to load their boats to begin fishing.
Around the Web