A batch of 236 youths from various parts of the country  graduated on Friday from the Youth Entrepreneurial Skills Training Programme (YEST) after acquiring skills in several areas that would ensure they are marketable, a  Government Information Agency (GINA) press release stated.
The graduation exercise which was held at the Kuru Kuru Training Centre, a resident facility along the Linden/Soesdyke Highway, was attended by Minister of Culture, Youth and Sport, Frank Anthony and officials from the ministry, as well as other partners of the programme.
Minister Anthony in his feature address congratulated the students for taking advantage of an initiative which will help them to improve themselves as well as those in their community.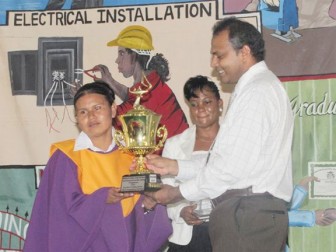 He also expressed gratitude to  partners of the programme – the United Nations Deve-lopment Programme (UNDP), Food for the Poor, the Guyana Defence Force, the Guyana Police Force and the private sector.
The students who graduated came to learn practical skills which will help them acquire a job in their community. An additional incentive was offered to those pursuing motor mechanic studies as they were  taught to drive which helps in their acquisition of a driver's licence.
This, Anthony said, is another skill set that individuals can use to seek employment. To this end, monies were allocated to procure a vehicle so that every student from the next batch will be taught to drive and conduct their practical examination.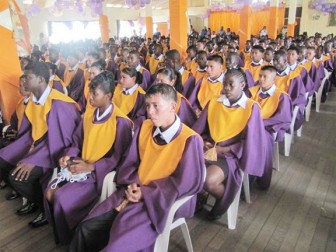 The aim of this programme, Anthony noted, is to ensure that every student who graduates is rounded so  emphasis will be placed on not only their particular skill area but others where they can experience development. In doing this they can work towards the transformation of their communities.
Meanwhile, the curriculum was expanded to include sewing, drama and garment construction and  plans are underway to include refrigeration and air-conditioning, computer studies and technician courses and the use of the internet.
The release said further that the best graduating student, who copped the Minister's trophy, is Ronessa Roland, from Region 7 who studied joinery.
Other best graduating students in their respective fields are Lorena Castro- Business Studies; Jermaine Davis- Carpentry; Allistair Cadogan- Electrical Installation; Fayola Rodrigues- Garment Construction; Andre Gomes- Masonry; Wanda Cox- Plumbing and Sheet Metal; and Kevin Patterson- Welding and Fabrication.
The most improved student award went to Jamal Philander while the most disciplined student award went to Zamal Palia.
The graduation on Friday has brought the total number of those graduating from the YEST programme since its implementation to approximately 1500 students, the release concluded.
Around the Web