A policeman who was at the scene of an early morning accident at Bartica was pronounced dead on arrival at the Bartica Hospital after he was run over by a speeding truck.
According to reports, Constable Leonard Forde, said to be in his early 20s, who resides in the city and who was attached to the offices of the Guyana Gold Board at Bartica, was standing close to the scene of an accident at Third Avenue in Bartica around 3 am when he was run over by a speeding truck bearing registration no. GNN 5940.
Bartica resident Devina Heeraman and her father Heeraman Lall sustained injuries in the two accidents and were transferred to the Georgetown Public Hospital yesterday where the latter was admitted for injuries he sustained to the head and feet. Devina was treated for minor injuries and sent away.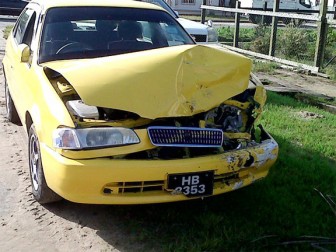 Both accidents occurred close to a taxi service in the area. An employee at the taxi service recounted that around 2 am yesterday  two yellow cabs which were proceeding in opposite directions along Third Avenue, collided. She said that the occupants of both cars sustained minor injuries, adding that Devina was in one of the cars at the time of the accident.
The employee noted that close to half of an hour later, the police officer arrived at the scene to investigate the incident and she noted that a "medium size" crowd had gathered at the scene by this time.
She noted that a 'bush truck' on Third Avenue, which was heading into the backdam area, was speeding up the roadway when persons raised an alarm about the rate at which it was being driven.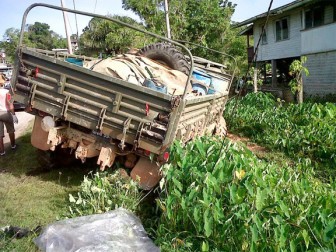 She said that the truck driver jumped a stop sign close to an intersection along Third Avenue and slammed into a white car which was heading in the opposite direction.
The eyewitness noted that the truck took a while before it came to a halt at the side of the road in a nearby trench and persons noticed that the policeman's motorcycle was damaged by the heavy vehicle. She said that "is a little while after that we realize he wasn't at the scene and somebody seh look a man deh up under the truck over one of the wheels".
The woman noted that Forde sustained massive head injuries and was later rushed to the Bartica Hospital where he was pronounced dead on arrival. The young man was expected to travel to the city today to spend his off- duty days with his family.
The driver of the truck and the other vehicles which were involved in the two accidents were later taken to the Bartica Police Station.
Around the Web