The  62-year-old man who was struck down yesterday in Werk-en-Rust as he cycled to the market died this morning at the Georgetown Public Hospital (GPH).
According to reports, chauffeur Eustace Rodrigues, a father of 15 of Lot 429, East Ruimveldt  was riding his bicycle along Lime Street in the city when he was struck down by a speeding car, a Honda Passo sedan bearing licence plate HB 9588 which was being driven by a female.
He sustained multiple injuries to the body including head injuries, a broken shoulder, broken ribs and both his feet were said to be fractured.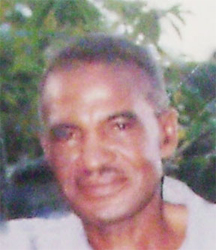 The man's grieving wife Vesta Rodrigues told this newspaper yesterday that she was at home around 7 am yesterday when she received a call from a medical staffer at the GPH. The caller informed her that her husband was involved in an accident and that she should visit the hospital.
The woman, who is employed at the GPH, noted that when she arrived at the medical institution, her husband lay unconscious and was bleeding through his nose as doctors attempted to resuscitate him.
She said the doctors noted that her husband sustained severe head injuries and he was later admitted to the Intensive Care Unit (ICU)where he was hooked up to a life support machine. She told Stabroek News this morning that her husband passed away around 1.30 am today.
The woman recounted that her husband left their home around 6:45 yesterday morning for Bourda Market and she noted that some 15 minutes later she was informed of the accident.
Reports are that Rodrigues was heading along Lime Street and was waiting to cross D'Urban Street when the speeding taxi which was proceeding along D'Urban Street, struck him down.
He was picked up by the woman and taken to the GPHC.
Relatives were upset that the woman was released on station bail. They noted that they will pursue the matter to ensure that the driver does not escape the incident lightly.
Around the Web