A 41-year-old man was yesterday morning chopped after he turned off an electric stove on which a male relative was boiling water.
Roy Sanders, of 677 Mocha Arcadia, New Housing Scheme, was awaiting medical attention in the Emergency Unit of the Georgetown Public Hospital when Stabroek News caught up with him.
The injured man explained that sometime before 9 am, he was washing some clothes in his backyard after which he went into his kitchen and noticed water boiling on the stove. He said he turned it off, and at the same time, a male relative joined him in the kitchen and became angered by his action.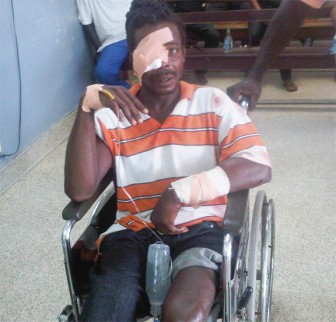 This, he said, prompted his relative to arm himself with a knife after which he attempted to stab Sanders but missed. Sanders further explained that he escaped through the door but the relative gave chase after he had put down the knife and armed himself with a cutlass. "I run outside and he chase after me with a cutlass," the man said.
The man's relative then swung the weapon several times, wounding the area around his left eye, his right hand and his right foot. Sanders explained that he held on to the blade of the cutlass so as to avoid being chopped. At this point, neighbours realized that something was amiss and gathered around the two men. "A boy name Troy come in and went telling we to loose the cutlass and I loose it but he still hold on," Sanders said, adding "he (the relative) end up lashing the boy over his shoulder with a wood and the boy left".
Sanders said that after a while, he was taken by a neighbour to the Providence Police Station where he made a report on the matter and then went to the Diamond Diagnostic Centre. There, he said, he had several stitches done and was later transferred to the GPH.
The man's relative is reportedly in police custody.
Around the Web