Minister of Finance Ashni Singh and Minister of Agriculture Robert Persaud yesterday joined members of the Community Development Council (CDC) of Region Four at their Annual Conference at the Diamond Secondary School.
A release from the Government Information Agency said that the conference was held under the theme "Uniting Communities Across Guyana" and was attended by over forty CDCs in the region including from Mahaica and Kuru Kuru.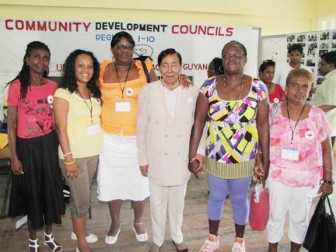 Organised by National Director of the CDC, Philomena Sahoye-Shury, GINA said that the event in addition to allowing for interaction among the different CDCs also offered a forum for concerns of the councils to be discussed and addressed.
GINA said that the CDCs presented reports of the projects implemented in their communities.
The release said that there are over 400 CDCs countrywide. The councils work with the different groups in the communities, including the Parent- Teachers Associations (PTA) and  women's and farmers' groups on fostering a cleaner environment, healthier lifestyles and eradicating poverty.
Singh told the councils that CDC's are vital in ensuring that the community projects are identified and implemented.
Singh praised Sahoye-Shury for her work with the CDCs.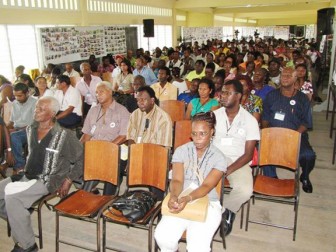 Persaud said the establishment and
maintenance of CDCs denote the government's commitment to empower people as well as deepening democracy and the participation of every citizen in the affairs of their communities and Guyana.
Each CDC was awarded a certificate of participation at the end of the conference. This is the third CDC conference for the year. Similar events were hosted in Regions Five and Six.
Around the Web