Sydney Ifill can thank his son Anthony for securing him a place in the next round of the Courts Guyana Inc's 'All You Need for Your Life' digital promotion.  On Thursday, the company launched what was the first phase of a four-week secondary competition: 'Nintendo Wii Showdown – Need for Speed- Hot Pursuit' that would see the eventual winner securing a complete Nintendo Wii Bundle.
Four names were pulled from those of persons who had bought digital gadgets from the company's brochure during last week: Sydney Ifill, Orin Joseph, Elton Hunte and Henry Ault.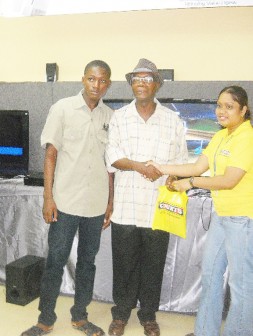 Ault forfeited his chance to play by being absent. Ifill's son played on behalf of his father and emerged the winner, gaining for his father an MP3 player and an 8GB flash drive.
The other contestants did not walk away empty-handed, since Courts presented all the participants with special company tokens.
Customers who have purchased any digital item from the company brochure now have a chance until August 14, to win not only Wii consoles, but 3 free installments on contracts of 36 months, and other prizes.
Around the Web