The Guyana National Shipping Corporation (GNSC) earlier this month commissioned a state-of-the-art container/truck scale which could see cargo being weighed in less than five minutes.
A release from the company said that the multi-million dollar piece of equipment was installed by certified technicians and was calibrated,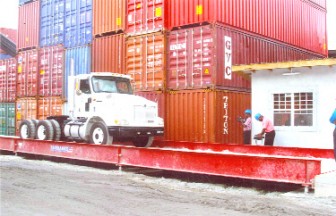 certified and approved by the Guyana National Bureau of Standards.
The capacity of the scale is 120 tonnes and it measures 60ft by 11ft. Weighing can be concluded in five minutes and the release said that the scale is "considered the best of its kind in Guyana".
The truck scale is fully electronic and has a factory poured and steam cured, concrete deck.
The release said that the Fairbanks' Titan Steel Deck Truck Scale outperforms all other makes across the board.
Around the Web