The recent recapture of convicted pirate Kevin 'Long Hair' Narine in Suriname shows what active cooperation between law enforcement agencies operating in two neighbouring jurisdictions can bring about, the Home Ministry said last evening.
"Thanks to the active cooperation between the Guyanese and Surinamese law enforcement authorities the notorious pirate's escape from justice was short-lived," the ministry said in a statement.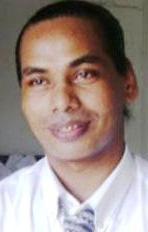 Narine was serving a nine-year sentence in the New Amsterdam prison for armed robbery on the high seas, when he escaped prison in early June along with others. He has been linked to a spate of pirate attacks off the coasts of Guyana and Suriname when he was arrested in Paramaribo last week.
Home Affairs Minister Clement Rohee had remarked recently that Narine's freedom would be short-lived.
The Ministry statement said further that "confidence in and support for our law enforcement agencies must be at the optimum notwithstanding disciplinary infractions that occur from time to time within the ranks of the respective law enforcement agency."
The ministry also called on the fishing community in particular and the communities in East Berbice and the country as a whole to "continue supporting the Guyana Police Force to root out the scourge of piracy and other forms of criminal activities from within our midst."
It said too that recent law enforcement successes came through intelligence-driven investigative work, successful crime detection and prevention as well as aggressive law enforcement and this is the way forward.
In this light, the release counted among the "successes" the Malcolm Panday robbery, the robbery at Avon's store, the three "abduction" incidents involving young girls, the seizure of a large quantity of cocaine in the Bartica area, the robbery of cash from RK's Security Services, the arrest and charging of seven persons with murder, twelve for robbery under arms and seven with possession of an illegal firearm.
The ministry added that with these successes, the law enforcement agencies must not rest on their laurels but should step up the fight against criminal activities across the country.
Around the Web