Chandradat Persaud, a prisoner currently serving a sentence of 15 years, was yesterday sentenced to an additional three years after he pleaded guilty to the charge of possession of narcotics for the purpose of trafficking.
Persaud appeared before Magistrate Hazel Octive-Hamilton at the Georgetown Magistrates' Court where he pleaded guilty.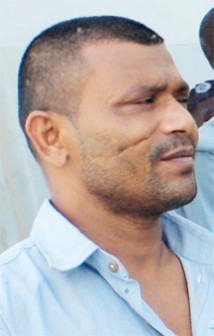 The court was told that on June 1, 2010, Persaud had in his possession 43 grammes of cannabis for the purpose of trafficking.
When given a chance to speak, Persaud begged the court to show mercy on him, adding that he has a wife and five children to maintain.
"I was in jail since 2006 Madam and my sentence will done till 2019 – you can't work it into my 15-year sentence?" Persaud pleaded.
In response, Magistrate Octive-Hamilton said, "This came to me in June 2010. Don't talk to me about 2006." She further stated, "When you are finished serving in 2019, you will serve three more years." Persaud was also fined $30,000.
Around the Web