One year after former immigration officer Samuel Boucher was gunned down in Brooklyn, New York, relatives here say that they are not convinced that he was a victim of an armed robbery.
While pleading for justice, they expressed belief that Boucher was killed by persons close to him out of greed.
Boucher's aunt Paulette Cort said they have heard numerous versions of the July 19, 2010 incident that have left more questions that answers.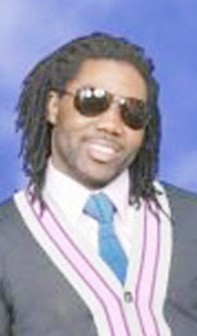 Boucher was gunned down a short distance from his home at Rutland Road and Rockaway Parkway. He sustained two gunshot wounds to the chest and apparently died before reaching the nearby Brookdale Hospital.
Based on the reports received by Stabroek News at the time, Boucher had gone out partying with friends. Around 5 am, as they were heading home, he decided to follow a friend to catch a train at a subway stop. It was reported that two robbers approached them as they stood there and opened fire. Boucher was injured while his friend managed to scamper to safety.
But the still distraught Cort told Stabroek News that they have since learnt that the model/fashion designer and Western Union employee might have won a large amount of money prior to his death.
She could not say how he won the money or how much.
"We were hearing about money he win… and that might be the motive. To my understanding I feel these guys kill him for the money," she stressed, adding that there is no other reasonable explanation she could come up with.
"The story [about the robbery attempt] sound stupid to me. I feel is a set up," she added, while noting that she did not understand how Boucher, who was surrounded by several friends, was the only one who received injuries.
She explained that according to the version given by his friends, he was exiting his car after partaking in his birthday celebrations when two men came up to him and "just started shooting him just like that". According to Cort, nothing was taken from Boucher.
She said that shortly after the shooting, someone went into Boucher's apartment and removed his clothing and valuables.
Meanwhile, Boucher's sister Gerna Boucher said she is looking for justice. The woman was hopeful that although he was murdered in a foreign land, the perpetrators will be brought to justice.
She noted that Boucher, who moved to the United States five years before he was killed, had no relatives residing there. She said she has no one there to feed her information.
No one has been charged with the killing, she said, while appealing for the friends he was with at the time of the incident to be thoroughly questioned because "something just ain't adding up".
"I don't know what's going on in America," she added. "Is like he fall from a tree… but he was not a bad person. He left this country for betterment and look what happen to him."
Like Cort, Gerna said she doesn't believe the story that was told.
Around the Web