Police investigators say they suspect foul play in the disappearance of Pembroke Pines, Florida woman, Natalie Belmonte who is originally from Guyana.
Belmonte is the mother of three grown children.
Florida police say they found evidence in a dumpster on Tuesday that points them to foul play, according to CBS affiliate WFOR.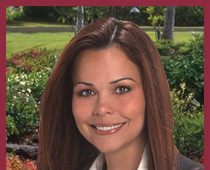 The report said that although police would not reveal what they found, a witness reportedly said police took out several white trash bags with sheets that had blood on them.
Belmonte was last seen returning to her home from a party around 2:30 a.m. Sunday, July 17, according to WFOR.
"It's just very, very strange that nobody has heard from her for two days now," said Belmonte's neighbour Al Quintana. Quintana said the night before she disappeared, Belmonte and her 22-year-old son had gone to a party together.
When they came home, she went to bed but when the son woke up, she wasn't there, the report said.
Police said there were no signs of forced entry into her home and her cell phone, purse, personal belongings and vehicle were found at the home.
In addition to her 22-year-old son, Belmonte has a 20-year-old daughter in college, and a 17-year-old son in high school.
Belmonte is 5'4″, 135 pounds, has straight long brown hair, brown eyes and was last seen wearing a strapless brown dress, the report said.
According to a CNN blog the police have questioned her son about the case. "He is also the last person to see her, so we are interested in speaking with him some more," Pembroke Pines Police Capt. Dan Rakofsky said at a news conference Tuesday. He would not disclose anything Belmonte's son has told them so far.
Rakofsky called the disappearance "suspicious," adding that evidence discovered in an area dumpster on Monday led police to believe foul play had occurred.
Asked about reports that those articles included bloody sheets, Rakofsky refused to identify any of the items taken from the dumpster.
According to Rakofsky, police were still carefully searching the house and treating it as a possible crime scene, the blog said. Investigators are also interviewing Belmonte's relatives and friends.
Meanwhile, a report by the Miami Herald today said that Pembroke Pines Police are also asking anyone who might have seen  Belmonte's car — a maroon 2007 Lexus ES — around dawn Sunday near the Publix at 194th Avenue and Sheridan Street or 196th Avenue to come forward.
The report said that authorities have deployed helicopters, dogs, boats and divers to scour the streets and canals around Belmonte's home at 19331 NW Fifth Street. They also sealed off the house itself to hunt for clues inside.
Searchers have reason to limit their efforts to the Pembroke Pines area, Rakofsky said, but he declined to say anything further.
The report said that police continue to interview friends and family. The report said that her ex-husband, Peter Belmonte, also lives in Pembroke Pines. Rakofsky said Belmonte had no known problems with his ex.
The police spokesman also confirmed reports that in 2008, Natalie Belmonte accused Gerard of stealing jewellery from her that was worth as much as US$20,000. She pressed charges against her adopted son, and a hearing in the felony grand theft case is scheduled for this upcoming Sept. 15.
The jewellery dispute did not appear to be connected to the possible homicide, police said Tuesday night, according to the Miami Herald.
It said that court records show Gerard Belmonte has been arrested several times in Miami-Dade and Broward counties over the past three years on charges of burglary, larceny, and petty theft. Most charges were dropped, but the Miami Herald report said that Gerard Belmonte pleaded guilty to petty theft in 2008.
Police have not named any persons of interest in Natalie Belmonte's disappearance, the report added.
Rakofsky asked that anyone with information relevant to the case contact Broward Crimestoppers at 954-493-TIPS or TIPS@ppines.com, the blog said.
Around the Web