Chairman of the Mahdia Committee Development Council Floyd Herman says that rehabilitation work on the Mahdia arcade, which was last year levelled by fire, is progressing but more funds are needed to complete the work.
Herman visited Stabroek News recently to respond to an article published last month, under the caption 'Mahdia arcade rebuilding hits snag'.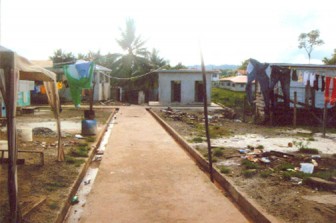 In that article, this newspaper quoted stallholders expressing their concern that the rebuilding was lagging behind the planned completion date. There were also complaints that persons had started to live on the arcade, contrary to the agreement.
Herman said that while there had been some measure of confusion, the persons causing this confusion were not members of the committee. He said the persons who are living on the arcade are the persons whose property did not get burned by the fire, along with persons who were living in the government buildings for a three-month "grace period," until the housing scheme was ready. He said work on the scheme is about to begin, and surveyors were recently in the community and issued house lots at the scheme.
According to Herman, contrary to what had been reported previously, the committee had been promised $25 million, combining resources from government and other agencies.
He said $5 million of this amount was to be used to clear the housing scheme site and $20 million for restructuring of the arcade. He said that so far, approximately $11.4 million had been spent for roadways, drains and washrooms. Cabinet, he added, has promised them the outstanding $8.6 million that has not been disbursed as yet.
Herman said the committee is hoping to use $8.4 million to complete the foundation, column, the perimeter beam and the roofing. He expressed gratitude for the support that government and other donors have given so far.
The chairman said that the arcade will consist of seven buildings divided into 32 different compartments.
Twenty-eight of these compartments will be for the persons whose stalls were burnt out, three for new vendors and the remaining compartment for the administrators.
The mining community in Region 8 suffered a tremendous blow on July 1 last year, when the fire reduced the arcade to rubble, while leaving more than 100 persons homeless.
The fire took several hours to be contained. Investigations later revealed that the fire had started in a room within a building aback of the arcade. The room had been illegally wired. No one was held accountable.
Around the Web