More than 20 relatives and friends of Homestretch Avenue accident victim, Peter Mc Lennon today protested outside the Ministry of Home Affairs on Brickdam, the Stabroek Market square and the Sophia bus park in front of Demico.
The protesters urged drivers to stop speeding on the roadways, to stop drinking and driving, and for commuters to take matters in their own hands and "speak up or get out" of the vehicles when drivers are speeding or have their music on too loud.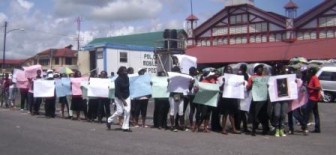 Mc Lennon's mother Anita Shelto and father were in full support of the protest. Also involved in the protest were members of the Mahaica Women's Action Group on Social Issues.  Shelto has promised that this isn't the end of the protesting until justice is served.
On Monday, five persons died when a speeding minibus suffered a tyre blowout and toppled. Several other persons remain hospitalized.
Around the Web