The AFC yesterday said it was disappointed at the Guyana Elections Commis-sion's decision to allow the reopening of Claims and Objections, warning that it could lead to an extension of President Bharrat Jagdeo's term.
AFC executive member Dominic Gaskin, during a press conference yesterday, said that while the PPP had requested the reopening of the Claims and Objections ostensibly to avoid the disenfranchisement of 7,000 unregistered persons, Guyanese are still without birth certificates, which pointed to "ineptness" on the part of the government.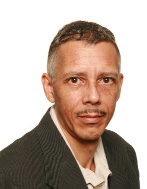 "The Alliance For Change is not convinced that the PPP/C Government is truly concerned with the democratic rights of our citizens," Gaskin said, adding that "this latest manoeuvre" by the PPP is motivated by other considerations.
"The PPP is fully aware that the seemingly benign thirteen days' reopening of claims and objections will not merely push the earliest possible date of elections back from the middle of October to the end of that month as they would have the public believe, but will extend this date well into the second half of November due to the complexity of GECOM's work schedule," Gaskin said. "This will bring it dangerously close to the month of December, during which we have traditionally avoided electioneering and the holding of elections," he said, reading from a prepared statement.
The PPP/C presidential candidate Donald Ramotar, during a news conference on Saturday, attempted to dispel the suggestion that his party was trying to delay the elections and said that the Commission has a mechanism that will not extend the life of the PPP/C government.
"We have absolutely no interest in extending our lives as the way the PNC did. We have absolutely no interest in that," Ramotar said. "We want, we have fought for all our lives, for free and fair elections in this country and we want to have free and fair elections in Guyana," he added.
However, Gaskin yesterday noted that "the list of electors currently being prepared is designed to capture those persons who have attained the age of 18 years on or before the 30th September 2011." "Should there be no elections within 90 days of this cut-off date, then the registration process will have to be reopened again to capture all those who would have reached the age of 18 years in the interim. Any delay, therefore, will see the continuity of the Jagdeo Presidency well into 2012 or beyond. To believe that the PPP is not keenly aware of this probability is to dwell in a realm of delusion," he said.
Commission Chairman Dr Steve Surujbally, during a press briefing on Monday, announced that a new round of Claims and Objections would be held. The exercise is expected to commence on Monday and is scheduled to last for 13 days, with the Claims aspect running for 10 days. Surujbally said that the elections could be held in November, well before the constitutional deadline of December 28, 2011.
Around the Web