Magistrate Hazel Octive-Hamilton yesterday ordered a psychiatric evaluation for a man who allegedly threatened to kill his mother because she refused to give him money to buy a phone card.
Deston Bailey, 26, admitted that on July 17, at Waterloo Street, Georgetown, he made use of threatening language to Velda George, resulting in a breach of the peace.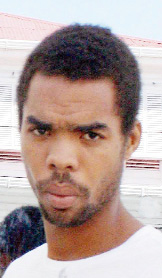 The Georgetown Magistrates' Court heard that on the said date, both mother and son were at their 158 Waterloo Street home when about 6pm, Bailey asked his mother for money to purchase a phone card. After she refused to give him the money, Bailey reportedly told her that he would kill her. A police report was made and Bailey was subsequently arrested and charged.
When given a chance to speak, Bailey's mother told the court that he had been acting "strangely" recently and she requested that he be sent for a psychiatric evaluation. George also said she was willing to give her son whatever form of support he needed. The woman explained to the court that her son works and resides in Bartica with his grandmother but she had recently brought him to Georgetown with her to seek medical attention, after receiving reports from relatives there that he was behaving "strangely." George said that since he arrived, he had been disrupting her family and walked around smiling and repeatedly talking to himself everyday.
Meanwhile, Bailey, who appeared to be distant during most of the hearing, repeatedly said, "Yuh don't know this woman," referring to his mother as tears trickled down his cheeks. When told by the magistrate to address his mother properly, Bailey began to smile. He then told the court that he wanted to tell the entire story that landed him in court. However, as he relayed the story to the court, he then started to speak on a number of unrelated topics.
After listening to him, the magistrate ordered that Bailey be sent for a psychiatric evaluation, prior to sentencing. He was ordered to return to court tomorrow.
Around the Web