Residents of St Cuthbert's Mission are plagued by an inadequate water supply, and the Village Toshao Earnest Dundas is appealing for the installation of a "bigger water system" to benefit the expanding community.
This call comes even after the government would have invested more than $5M last year in trying to improve the water supply in the community.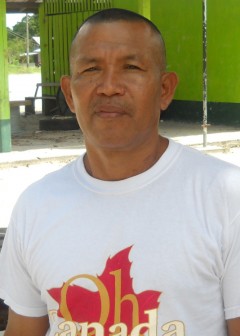 "We still need the water system to be improved on [that is] one of the big issues we face in the community, it needs to be improved," Dundas said in a recent interview with this newspaper. St. Cuthbert's Mission is an Amerindian settlement located along the Mahaica River, which has about 200 households and a population of just under 1,600.
The government was responsible for establishing the initial water system which consists of 12 black tanks on a trestle and a submersible water pump powered by solar energy.
The tanks, according to Dundas, take about seven hours to be filled. "And those 12 tanks, would by, let's say, 12:30pm-1:00 pm, once there is good sunshine during the morning.  And we release the water, it goes through the various outlets through the community…and within about two to three hours time, those tanks are empty," he explained. "So even though the pump is still pumping, it still cannot  full those tanks, even after then, so we have to wait  til the next day around the same time again to have water," he continued.
Dundas said that back in October 2009, Minister of Housing and Water Irfaan Ali visited the community and committed $15M to enhance the water system. Last year, Dundas said a team visited and did some work in the village but according to him, this did not help to boost the water system.
"Yes, they have done some work yes, but from what I can see, that amount of work that was done, that was not a $15M….just by laying a few four inch pipes , from this point here to the scheme which is roughly about 1 km or less than that…that is what they have done," he said.  According to him, after the team completed the work, some areas where water was flowing appeared to have "dried up".
"The engineer came in several times, I spoke to him. I'm not an engineer but at least from a little common sense, I said to him the system that we need to have, that you need to place here…must be a bigger system with a bigger pump that could fill those tanks faster. We need something bigger because our population is increasing day by day," the toshao said.  He said that the Village Council has attempted to follow the matter up but it has been unable to get into contact with Minister Ali for information on the project.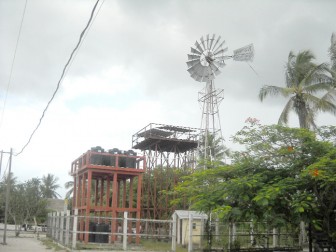 When contacted by Stabroek News, Minister Ali rejected the assertion that the work done by his ministry did not improve the water system in the village, and referred this newspaper to Guyana Water Inc. (GWI) Hinterland Manager Akram Hussain for more details.
Hussain told this newspaper that of the promised $15M, a total of $5.3M has been spent to date.   This sum of money, he explained, was for an upgraded water distribution network and to build some stand pipes at individual houses which would have improved the ability of residents to access water.  The remaining $9.7M, Hussain said would be spent to upgrade the water community over the next two years.  He explained that the intention was never to disburse all the funds at the same time.
"We need a bigger system.  And that is what we have indicated to them. That's what we told them and yet they aren't able to listen to us," a seemingly frustrated Dundas told Stabroek News during the interview.
Dundas, who has been the toshao for the past two years, said that the village has been looking for grant funds from non-governmental agencies so that it can improve the water system. He said that as Toshao he has been trying to encourage the village not to be too dependent on others to get things done but to develop the capacity among themselves to accomplish what is needed.
Around the Web