Police yesterday rearrested a taxi driver, who was held in connection with the murder of 17-year-old Ravendra Persaud.
The man's rearrest has given relatives of the teen gardener a glimmer of hope that they will get answers and eventually justice.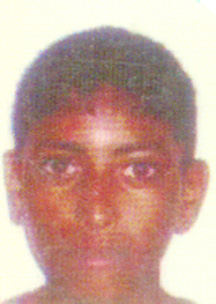 The teen's father, Praim Persaud told Stabroek News that following the burial last Thursday, he had been "behind the police." He said that yesterday one of the investigating ranks informed him that the man was being held at the Mahaica Police Station.
Police are still to find a motive for the killing. The teen's body was found a stone's throw away from a wedding house, where he had been a guest.
Praim explained yesterday that information has been circulating but persons in Mahaica Creek are not coming forward. He opined that because it is a close-knit community, residents do not want to turn against each other.
The distraught man said that the detained taxi driver is the common element in all the stories that are circulating. He pointed out though that no eye witness to the crime has come forward with information and this is hindering the investigation.
"I am happy that they are continuing to work. I behind them every day because I need justice. I done mek up meh mind that it gon tek lil time," he said. He added that on Sunday he revisited the spot where his son's battered body was found, but "ah din pick up no information. No one ain't wan come forward."
He vowed that he will continue to follow his son's case for as long as it takes.
Ravendra Persaud, a gardener, of Lot 33 Supply, Mahaica, was found on the De Hoop Road, Number 10 Village with marks of violence to his head and other parts of the body last week Tuesday. A post-mortem examination later revealed he died from a fractured skull.
The teen's body was found by a child, who heard his cellular phone ringing. On investigating the origin of the ringtone, the child stumbled upon the body, which was lying in the grass just off the edge of the roadway.
Persaud had gone to the wedding house with other relatives, who said he later vanished.
Occupants of the wedding house have been tight-lipped and have denied that the lad was killed there. One woman did admit that she saw him at the house the night before he was found dead.
Around the Web