About 400 persons from West Berbice turned up yesterday at the Bath Primary School to benefit from the free medical services provided by Guyana Watch Inc. Medical Outreach Programme.
They told Stabroek News that they were very grateful to the president, Tony Yassin and the team for bringing the clinic to the area annually and for providing an efficient service.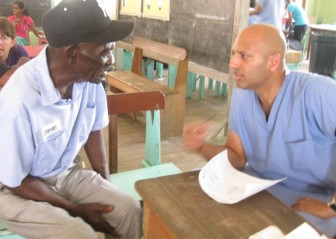 They have been treated for problems such as hypertension, diabetes, back pain, fungal infections, colds and burning stomachs and were given medication for about three to nine months.
Yassin said that the clinic comprises five paediatricians, five general doctors, two dentists and a pharmacist who covered their own expenses for the trip.
He told this newspaper that while they have no other "overhead expenses" they would raise the money for the medication that they purchase at a "much cheaper price."
The programme started  19 years ago and so far a total of US$2M has been spent.
The clinic at Bath Settlement was the sixth so far around the country and the final one was expected to be held at Leonora.
The team would also be assisting eight children this year to undergo heart surgery in India and the US. They have also referred a patient to a neurologist and a few others to other specialists.
One of the paediatricians, Dr. Dunisha Ranasuriya said that most of the children who were treated suffered from coughs, colds and rashes. She said one who visited yesterday requires heart surgery.
Another child who the programme had sent in December last year visited for a check-up and is doing well, she said.
The pharmacist, S.P. Metha who has been a part of the team for the past 10 years said they enjoy coming on the outreaches. They said the patients are very appreciative and respectful.
Dr. Mike Lowney who came to Guyana for the first time told this newspaper that it was a "great experience." He said some of the patients had chronic uncontrolled diseases and he provided them with "education and medication to hold them until they can see their doctor…"
Around the Web