Residents of Canefield, East Canje are grateful for the new $104M well station that was commissioned in the area on Wednesday, but say the water flowing from it is "not fit for consumption."
The well, which is estimated to benefit 14,000 residents, has a depth of 750 feet and the capacity to produce 180 cubic metres or 90 black tanks of water in one hour, according to the Government Information Agency (GINA).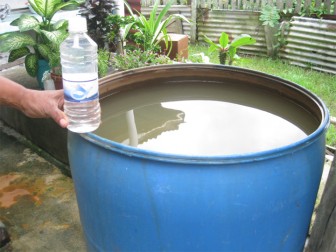 When Stabroek News visited the area yesterday, residents said the water has a "funny smell" and tastes "rank," and when used for washing it is staining their clothes. They would have to pump it into another tank and "air it out" before they can use it, they said.
A woman, who showed this newspaper a barrel of discoloured water she filled up on Thursday, was surprised when she opened the pipe to fill a bottle and noticed that it was in fact, very clear. However, another resident filled a bottle of water from his pipe that contained a lot of sediment and was orange in colour.
The man said that his daughter had to be treated by the doctor for a skin rash she had developed from using the water.
At the commissioning, residents became annoyed when Minister of Housing and Water Irfaan Ali said during his address that they were benefitting from quality water.
The residents who had the bottles of discoloured water in hand displayed them and said the quality was unacceptable. The minister assured them that he would see that the water is purified later.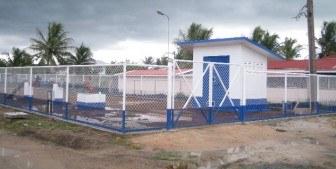 According to GINA, Ali "agreed with the residents that the water is a little discoloured" but "pointed out that it meets all the World Health Organisation's standards."
Residents started benefitting from the new service last Thursday. Before that, they accessed water from the well at the nearby Cumberland Village, while a few other residents sourced it from the GuySuCo well along the street.
During that time, the water pressure was very low and they only enjoyed the supply for a few hours each day. However they had no problem with the quality. With the new well, they said the "pressure is very high" and they would benefit from it for the entire day.
The residents pointed out that for all the money that government spent, the well should have delivered filtered water.
Some were of the opinion that instead of spending all that money on a new well, it would have been cheaper for government to upgrade the GuySuCo well to benefit everyone.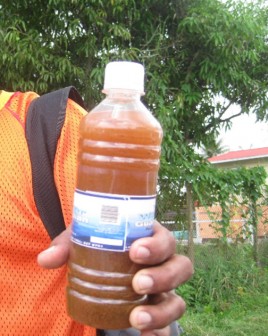 They also feel that the "rusty" water could have been as a result of the old water lines, including broken ones, which needed "flushing out" to ensure that it was free of sediments.
Further, the residents said it was not fair for them to pay for the service and still have to purchase drinking water. They vowed that they would not pay the rates until the quality improves.
Around the Web