What was the motive behind the gruesome killing of Abdul Azeem Haniff whose remains were found stuffed in a septic tank a month ago? While this is still baffling relatives and police, a woman whom he was friendly with appears to be the key to this mystery. Since the incident, the woman has vanished without a trace and relatives feel she may know something.
According to Crime Chief Seelall Persaud investigations are still ongoing and ranks are yet to come up with a motive.
Haniff's daughter, Nafeeza, told Stabroek News recently that she had left the woman at her father's place around 16:30 hrs on June 29, the day before the body was found.
She said she did not know the woman or her name. She said that was the first time she had seen the woman.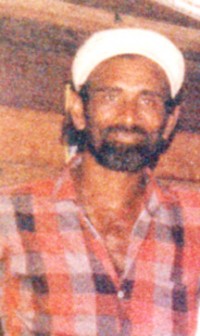 Nafeeza recalled that just before she left the Mon Repos, East Coast Demerara address, the woman asked her father for $500. "Man you gon molest meh because meh daughta deh hey", she recalled the man saying to the woman, who just laughed in response.
Apparently, Haniff called 'Panjax' had been friendly with the woman for some time. There is information that she vends somewhere in downtown Georgetown.
Like other relatives, Nafeeza said Haniff entertained many persons at his home and when he was questioned about who they were the response was always "is meh friend".
The grieving woman told this newspaper that because of her father's disability he was not too friendly with the neighbours. His friends came from places outside Mon Repos where he grew up.
She said that following the murder, she has received several strange telephone calls in which the persons at the other end would refuse to identify themselves.
The callers would say they knew who committed the gruesome act.
She said during one such call, the caller claimed to have seen two men pull up in a white car and jump over the fence around the man's home.
She added that a strange woman who asked for her by name called claiming that Haniff had told her that the persons who had robbed him in May would come back to kill him. "She call asking if me father ain't tell me de story," she said adding that according to the woman during that incident $180,000 was stolen.
She said she is finding it strange that this information is only surfacing weeks after Haniff was killed.
Asked if she has informed the police, the woman res-ponded in the negative explaining that she is awaiting the arrival of her sister from overseas to decided the next step.
A target
Relatives had told Stabroek News that persons had broken into Haniff's home where he lived alone and stolen items including money which he had secreted in a chair.
Nafeeza, during the interview, revealed that her father was robbed last August. She explained that around midnight men had gone to the house asking for birds to buy.
"They say Panjax open ah want this bird to buy," she said adding that he told the men that he did not sell at night and that they should return in the morning.
She explained that her father sold birds, two of which were killed during the fire that was set to his house after he was killed and dumped in the septic tank.
According to Nafeeza, her father was sitting in his house when he noticed two men passing some time around 5 am. They walked up the road and then turned around. They then ran into the house and robbed Haniff of two birds, cash and a BlackBerry phone. The matter was reported to the police, she said.
The woman told this newspaper that she is baffled as to why her father was killed, especially in that manner.
She recalled that when she got the message of the death, she assumed that he died in his sleep because of his condition. Haniff has been unable to walk for years after he fell and injured his spine while working on a sugar punt. He was a cane cutter at the La Bonne Intention Estate. He walked with the aid of crutches which were found in his bedroom.
She said what was even more shocking to her was that both doors to the man's house were locked. A back window through was left open.
Caught
Nafeeza expressed confidence that the perpetrators will be caught. Relatives have concluded that more than one person committed the act because Haniff was big built. However, Haniff's brother was not so optimistic. The man's said that he has heard nothing new from the police.
He said he believed "things have stalled" adding that police made no attempt to look at images the cameras on a nearby house had captured.
He had said that he was unsure if the occupants of that house would assist the police especially since it was private property.
Neighbours were awakened around 01:30 hrs by a fire at the man's house and after alerting relatives living nearby they rushed over. After several attempts the front door was broken but Haniff was nowhere to be found. Two sofas and the man's mattress were on fire.
After several searches he still was not found and fearing that he had been kidnapped, police were informed. Ranks returned to the scene with relatives who had reported the matter but still the man could not be found.
A brother had said that it was he who led searchers to the septic tank located behind the house. He had explained that he began studying "whey they could carry a man like that, who can't walk". He said first he started looking at two water tanks and then at the septic tank. At that moment, persons were walking on the septic tank and he asked them to check inside. However they were not inclined as both covers were on. "Dem boys jump off and walk off and when I go and mek suh, de man deh in there," he added.
A post-mortem examination revealed that he had been strangled.
Around the Web