An $83M contract was signed on Friday by Chief Executive Officer, Guyana Water Incorporated, Nigel Niles and contractor, ASH Civil Engineering Works, Alvin Hanover, in Region Ten for the rehabilitation of the Kwakwani water treatment plant, according to a  Government Information Agency (GINA) press release.
The old plant has been providing water to more than  3000 residents in the community but  it had to be rehabilitated due to age and the increased population.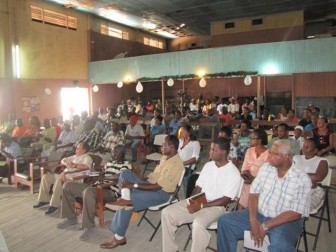 The project will be executed in three phases –  rehabilitation of the current plant, installation of two kilometres of PVC distribution mains and installation of over 1500 household service connections – thereby eliminating the use of public stand pipes.
Minister of Housing and Water, Irfaan Ali in his address noted that during his last visit to the community in 2010, some critical issues were raised including the state of the water sector, primarily the distribution system and the water treatment plant.
"At that time we assured you that we would seek to have the necessary steps taken to find the resources within the national budget to execute this project,"  Ali is quoted as saying.
He emphasised that government believes that investment must be geared towards transforming the lives of people which will ultimately change society and also create opportunities; however no investment can be feasible or viable if it is not sustainable.
"We understand the peculiar circumstances of various communities across the country so for communities like these, viability in the first instance does not depend primarily on returns however, the cost of providing the service is severely affected by our own actions,"  Ali pointed out, referring to wastage, destruction of infrastructure, and conservation.
He noted that across Guyana the government subsidises the operational cost of water by more than 65 percent and a lot of that cost goes towards energy consumption, so  he urged residents to change how they utilize these services.
The release said further that the project does not include the installation of service meters, and  in this regard the  first approach is to educate the community on the proper usage of water, and conservation so that the system is sustainable.
He emphasised that while the investment would bring better quality and flow of water to the residents and does not have meters it becomes even more important that residents work towards changing their attitude, behaviour, and culture towards this social investment.
Meanwhile, the minister highlighted government's investments in the water sector in Region 10 where over the last five years more than $700M has been invested while over the next five years Linden and its surrounding communities will see a further $3B being invested. Only recently, a  US$12.3M contract was signed for the modernization of the Region 10 water distribution system.
Around the Web