A Berbice farmer, who has been rearing cattle on a large scale in the Canje Creek area for more than 15 years says he will soon be forced to close his operation if rampant rustling is not addressed by the authorities.
According to Dirajpat Missir, who resides at Adelphi Village, East Canje Berbice, he is one of many farmers in the Berbice area whose livestock has been targeted by cattle rustlers for a number of years particularly in the last five.
A source at the Ministry of Agriculture said rustling is known to be prevalent in the Canje area but he noted that it "is more of a law enforcement issue". Efforts to obtain a comment from the Home Affairs Ministry on the issue have proved futile.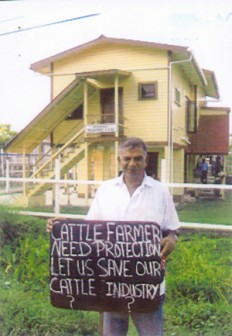 The Ministry of Agricul-ture (MoA) said in a statement when contacted recently, that existing arrangements which apply to rustling need to be reviewed comprehensively to allow livestock farmers to know that their property is safe.
The agency has in draft, a new Praedial Larceny Bill which is to be promulgated soon. When this is combined with traceability regulations or laws, the legal and administrative arrangements regarding protection and enforcement of livestock can be more robustly applied.
According to Missir, he returned to Guyana in the early 1990s soon after the 1992 general elections. He said that when he was residing in the United States, the late Dr Cheddi Jagan encouraged him to return home and invest in the sector, a venture he (Missir) has held close to his heart for more than 40 years. "I came back home to contribute to the economy and I invested millions into the industry", said a worried Missir. He said that he began by empoldering an area close to the Canje Creek, near to the Pototoco Creek, located more than 20 miles from the Coastline.
Missir stated that he encountered issues regarding the land on which he made his investment and several "known persons" began to "terrorise" him.
He said that he has made numerous complaints to the Ministry of Home Affairs since the late 1990s and even met with the present Minister, Clement Rohee, to discuss the issue but he noted that "all what happening is this person send you to that person and then another one while the activity (cattle rustling) going on". He displayed several pieces of correspondence which he had received from the Ministry of Home Affairs, the Office of the President, the Commis-sioner of Police and the Police Complaints Authority.
Missir  said that he was once beaten and lost several fingers during an incident a few years ago when three men entered his farm house, tied him up along with three workers and proceeded to beat them. He said the men brazenly took away animals, mainly for their beef.
The 70-year-old man noted that "I had over 500 head of beef cattle and a few dozen workers when I started in the 1990s, day like today I gat less than 200 and only 3 workers".
He said too that the rustlers would travel to his farming area via trails and he noted that they would sometimes "bareface come in the day and carry away my animals, like full wild west on horses". He said that he once had in his possession a licensed firearm but that too was taken away by the rustlers during an attack in 2009.
Two persons were subsequently placed before the courts in relation to that matter.
"Is a long battle I fighting and I came back to invest and add to the economy but it just isn't fair', the man noted. He said that his farm is located on 12,000 acres of land which he leased from the authorities and for which he pays some $300,000 per year in taxes.
The man noted that he made several complaints to the police in the Canje area and he said that there were occasions when persons were placed before the courts in connection with stealing his cows.
He said too that there are many other farmers like him in the Berbice area who have suffered numerous losses at the hands of cattle rustlers within recent times.
Abary Creek
An Abary Creek farmer, who asked not to be named, noted that he too has suffered at the hands of rustlers in recent times, and he said that the illegal activity was widespread in the East Berbice area. He said that there have been "many cases within the past two years I would say when farmers lost a lot of animals" and he noted that nothing much is being done to prosecute the perpetrators. He said that while persons were placed before the courts on several occasions, the issue of law enforcement appeared lax where addressing cattle rustling is concerned.
It was noted by the MoA, that implementation of a locally developed auction for livestock can  also provide a transparent and legal way of acquiring livestock. In addition, as the elements of the beef commodity value chain are systematically developed through investments, each segment is poised to dovetail with legal and procedural steps that will reduce opportunities for rustlers.
The ministry noted that the nascent Guyana Livestock Development Authority (GLDA) too has begun to implement its mandate in collaboration with key sister institutions and protection of farmers from rustling increasingly has to move into sharper focus. "Strong inter-agency collaboration is also a prerequisite for success against the scourge of rustling", the agency noted
It was noted too by the ministry that its system of identifying animals and the entire setup designed to foil thieves of not only  livestock but of livelihoods, have begun to develop large cracks, which have chased  away would-be investors.
"If we are to win the prize of entering an export market, all of our livestock farmers must be secure in the knowledge that their investment will not be lost to calculated attacks from rustlers", the agency noted.
Around the Web