When two brothers were heard arguing about murdered pensioner Sukhdai Ramkilaum about a month ago, it seemed this was the break the police so badly needed to solve the brutal crime that occurred three months ago.
However hopes were dashed when the men were released shortly after they were arrested.
Since then, police said, there has been no new information and from all indications, the investigations have reached a dead end. Police however insist that the case is still open and that investigations are continuing.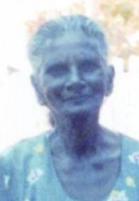 Ramkilaum's brother-in-law Balram and his wife Satwantie spoke to Stabroek News recently about the case. They both stressed that at the time they were overseas, where Balram had gone to have an urgent surgery performed. Balram opined that poor police investigations into the matter could see the killer/s walking free.
Balram said he received information that about a month ago the two brothers were detained. He explained that the duo who usually did odd jobs for residents, were overheard quarrelling about who had killed the 68-year-old woman.
Apparently, he said, the two "either they smoke or they drink" were fighting at a location in another section of the community when a woman overheard them quarrelling. "They start saying during the quarrel who kill and who kill," he added.
The woman called another resident who later contacted the police. The brothers were arrested but later released, he said.
He stressed that prior to the murder, the brothers were a regular sight in the community but after they were released they disappeared. He said he found this very strange. "At present now yuh ain't seeing them at all."
On April 20, the semi-nude body of Ramkilaum, called 'Mama Rose' and 'Rosaline,' was discovered in a pool of blood in her bedroom, at her Lot 80 Vryheid's Lust North residence, where she lived alone. The house was tumbled.
It was her relatives who lived next door who sensed something was wrong after calls to her went unanswered. Despite her age, she was very active and she was not seen cleaning her yard which was a regular occurrence.
Her niece-in-law after calling and getting no response spotted a substance leaking from an area where the bedroom is located. She immediately alerted her husband who informed ranks at the Sparendaam Police Station.
The police, who arrived, entered the house and found Ramkilaum on the bedroom floor clad only in a t-shirt.
Motive
Balram said the motive is still baffling but opined that the killer (s) was/were drug users in dire need of money who hatched a plan to attack the elderly woman and rob her of whatever valuables she had.
He stressed that there are a lot of drug addicts roaming around the community. "Is she one does deh in there yuh know but the lady had jewel and thing and all dat missing," he said adding that although so much time has passed residents still talk about the incident a lot.
He noted too that the area is not close-knit.
It is suspected that the woman was killed some time during the afternoon on June 19. A neighbour had visited her around noon that day. However persons in the area said they did not hear or see anything strange.
It is suspected that Ramkilaum knew her attacker/s and had let them into her home.
Balram said his son and daughter-in-law who resided next door were not at home during day before opining that this is when the killing might have occurred.
"Yuh see how this place deh lonely? Nobody knows when or what happened. I don't know if she was killed during the day…  So nobody is at home here during the day," he noted.
Meanwhile, Balram charged that police never investigated the matter thoroughly.  "The police department never come and investigate the story properly. The first thing they suppose to bring the dog, if they have a dog to sniff de place to see who do it or whatever. They ain't do that," he said. He stressed that a tracker dog could have been useful to the investigation.
He said too that people are talking a lot and in this regard police ought to intensify their investigations.
While Stabroek News was in the area, it was noticed that the police tape was still around the house. The couple explained that since the incident, a relative who lived overseas came and secured the house and left.
The police tape was not touched.
"The police put it there so nobody wouldn't interfere. When the police left they didn't say that they could take it down," the man said.
His wife said to this day she is still in pain and grieves for her sister. She said that there was nothing relatives could do about what had happened to the woman. She recalled that when she got the news she was overcome with sadness.
"I can't seh why the police crime scene tape is still around the house because meh nah ask question bout nothing. I don't want to stress myself out too much because I am a pressure case and a sugar case and meh husband sickly," the woman noted. She added that she saw her sister about one year before she died and she was her usual self.
The couple also spoke of how hard working Ramkilaum was despite her age.
Around the Web