The first wife of the late president Linden Forbes Sampson Burnham, Sheila Lataste Burnham, died last Friday at her daughter's home in St Vincent at the age of 90.
Mrs Burnham, who bore three daughters for the late president, was a Trinidadian by birth but was living in St Vincent for the past ten years.
According to her son-in-law Dr Richard Van West Charles, Sheila was born on November 26, 1911 in Trinidad and Tobago. It was while she was studying to be an optician in the United Kingdom that she met the late president and they got married in 1951. They had three daughters Roxane; Annabelle and Francesca.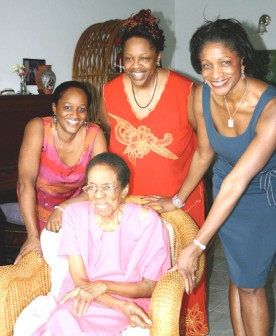 According to her son-in-law Sheila Burnham played an active role in the women's movement of the PNC then known as the Women's Auxillary Movement. She was also active during the turbulent days of the early sixties supporting her husband.
In the women's movement she worked closely with Winifred Gaskin, Raj Latchmansingh, Neta Fredricks, Lucille Cox David, Jane Phillips Gay, Gertie Allsopp and Mary Bissember. She worked professionally as an optician and closely collaborated with Jose Da Silva Snr. Her office was housed at Amex House on Regent Street which belonged to Stanley Yearwood
The late Sheila Burnham is set to be buried in Trinidad next month but a date has not been set.
Around the Web