Nigel Campbell, 27, of Number 50 Village, Coren-tyne is currently a patient at the New Amsterdam Hospital, after he was struck down by a Canter truck around on Saturday night.
His mother, Jane Lindo, a former nurse, said he sustained three broken ribs, a punctured left lung and injuries to his head.
He also underwent a "surgery to insert a tube into his stomach to drain the blood that was lodged into his abdominal cavity," she said. "He is still not able to sit up and [is] crying out for pain, but he is under observation and his condition is said to be stable."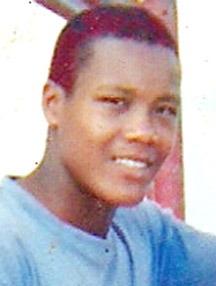 He was first rushed to the Skeldon Hospital but his mother was not pleased with the treatment he was receiving and hired a car to take him to the New Amsterdam Hospital.
"He asked for some water and the nurses said they did not have cup," she said.
She said she had requested an ambulance to transport him but was told that she could not get one.
The woman said her son left home to go to a pre-wedding celebration at Number 49 Village and was standing was on the road when the Canter, that was reportedly speeding, hit him at about 8.45pm.
He was flung some distance away and ended up under a car, which had to "drive off a little" so persons could attend to him. He was bleeding profusely. Some persons claimed that Campbell, a labourer at a rice mill, was attempting to cross the road.
Lindo said she reached to the scene just in time to join the car to accompany her son to the hospital.
The truck bore a Suriname number plate and was driven by a Surinamese who she learnt has since been placed on station bail. He is yet to be charged and she said it "seems as though justice is being delayed."
After the accident, she said, he exited the vehicle before joining it again and driving to the station. She said too that he "did not even go and see my son or talk to me, the mother, as a mark of respect."
She said, "I keep going to the hospital and I am not satisfied with the way things are going. I am going through a lot of expenses right now."
Lindo lamented too that "the police calling me to find out how my son is doing and I had to ask him yesterday why he can't to the hospital and see for himself."
Around the Web