The Guyana Telephone and Telegraph (GT&T) has announced the winners in the seventh and eight weeks of its Salute your Heroes 'Text to Win' competition.
In a press release the company said Lizana Jones and Sherwin Younge both texted the correct answer 'C' Philip Moore in response to the question "Corentyne-born artists and sculptor who taught at the local Burrowes School of Art, at universities in the USA and designed the 1763 Monument in Georgetown. Who is he?"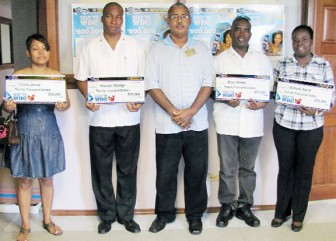 The release also said week eight's winners Paul Hunter and Verneak Albert both texted the correct answer 'C' Desiree Bernard to the question "The first female in Guyana and the Caribbean to become a Chief Justice. This Guyanese served as Chairperson of the UN's Committee on the Elimination of Discrimination Against Women (CEDAW) and became one of the first Jurists to sit on the Caribbean Court of Justice (CCJ). Who is she?"
All four winners received prizes of $20,000 each, which were presented to them at the Guyenterprise office on Friday.
Around the Web