A man who the police say was found in possession of an unlicensed gun and ammunition was yesterday remanded to prison by Magistrate Hazel Octave-Hamilton at the Georgetown Magistrates' Court.
The allegation against Linden Polis is that on July 21, at the Aranka Backdam, North West District, he had in his possession a .38 Taurus revolver and twenty eight .38 rounds of ammunition without licence.
The accused, who resides at 100 Uitvlugt, West Coast Demerara, denied the charges when they were read to him.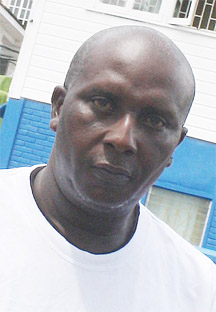 Attorney Vic Puran, who represented the accused, argued that the alleged items were not found on his client's person but rather in a mining camp which is occupied by several other persons.
In a bail application, the lawyer said that the issue of multiple-occupancy of the camp in which the alleged items were found offers his client a good defence and also amounted to special circumstances which must be advanced if bail is to be considered.
"He [Polis] has no knowledge of this offence," Puran declared.
Police corporal Venetta Pindar, however, objected to the bail application made by the lawyer, stating that the prosecution's facts differed from that of the defence.
According to Pindar, at the time the camp was raided by the police and the items found, the defendant was the only one there. The corporal further went on to say that since there existed no special circumstances, the accused should be remanded to prison.
Puran, however, exclaimed, "What can be more special than no evidence?"
After listening to both sides, the prosecution's application was granted and the Magistrate informed Polis that he would be remanded to prison.
His matter was transferred to the Bartica Magistrate's Court for reports and fixtures on July 28.
Around the Web