A gang of about 30 men, including presidential guards, early yesterday morning stormed into Guyana Sandport Inc. at Coverden, East Bank Demerara, overpowering security guards and damaging a conveyer belt, in what is believed to be an attempt to shut the company down.
Up to press time last evening, about 14 of the perpetrators, some of whom were armed with guns, were in police custody and police sources say that they will be slapped with property damage charges. Among those in custody is the co-owner of the company, which exports sand and stone and four presidential guards.
Efforts to contact senior police officials forcomment were futile.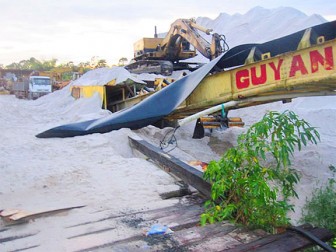 Stabroek News understands that when police arrived on the scene sometime after 2 am, the presidential guards, who were armed, were keeping watch outside. Inside, the co-owner, who was dressed in black with a stocking over his face, and others were busily cutting a conveyer belt with a torch. Some of the men managed to flee into a waiting minibus while police arrested more than a dozen of them.
The owner of Guyana Sandport Inc, Canadian-born Joseph Bhaskaran said he is terrified and called on the police to investigate the incident so that he can get justice.
Based on the accounts given to this newspaper, the gang stormed the property, equipped with welding sets and acetylene torches, with the intention of destroying the conveyor system that is used to load and offload sand and stone into boats.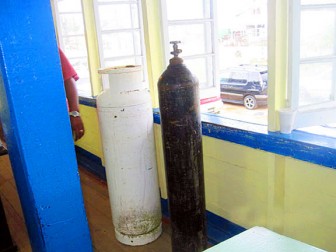 As they were heading to the location, a truck carrying the equipment got stuck in the sand. As a result, they were unable to carry all their equipment onto the property.
Members of the group cuffed and kicked two guards on duty at the time, but one managed to escape and contacted the police before travelling to Bhaskaran's Soesdyke home, after efforts to contact him by phone were unsuccessful.
Bhaskaran said that when the man related to him what had transpired, he was shocked and terrified. He said that when he arrived at the location, he could see persons running up and down inside the compound.  The perpetrators were dressed in dark clothing and some had stockings covering their faces.
Shut down
"This was done to shut me down," Bhaskaran said. The man, who is a naturalised Guyanese living here for about 22 years, explained that his business partner, recently entered into a partnership with a competitor.
According to him, his competitor wanted to shut him down in order to dominate the industry and even offered him US$10,000 a month if he ended his operations, but he refused. He said that it was at this point that his partner jumped ship.
Bhaskaran said his former partner, who handled the company's finances, obtained an injunction barring him from entering the property.
Bhaskaran's attorney Sanjeev Datadin told Stabroek News that the case is to be heard next Tuesday. He said three weeks ago the man's former partner secured the injunction, in the name of Star Metals, blocking his client from the property. He said that although this was done, the company was still functioning.
Datadin noted that when his client went to the property with the guard yesterday, he was hesitant to enter because of the injunction. He said that it was on the insistence of the police that he went and found his partner there.
Up and running
Bhaskaran said that though his equipment is damaged, the company will be up and running in another few days. He said that he left the lumber business about two and a half years ago and started exporting sand and stone. He told this newspaper that he spent about US$190,000 to build the company locally and it is one of the best in the Caribbean. He was relieved that only the belt was damaged during the attack, before pointing out that a substitute will be found until he is able to effect repairs.
He said that though he is scared he will not return to Canada. He pleaded for justice before describing the incident as a dangerous thing which should be tackled now before it gets out of control. He noted too that the police are acting positively in the case.
Meanwhile, Datadin said that the involvement of presidential guards is alarming, while pointing out that the weapons they had in their possession are for personal protection. He added that it is alarming to note that they were involved in acts of vandalism and damage to property.
He noted that the presidential guards are just a special branch of the Guyana Police Force and as such should be subjected to the same rules and levels of discipline. He, like his client, expressed hope that police would make every effort to get to the bottom of the incident.
Around the Web