Twenty-nine-year-old Devika Persaud of No. 50 Village, Corentyne whose battered body was found along the No. 61 Village foreshore on Sunday died of asphyxia due to strangulation.
This was revealed following a post-mortem examination conducted by pathologist, Dr. Nehaul Singh at the New Amsterdam mortuary yesterday.
Police sources told Stabroek News that four persons remain in custody as investigations continue. They are trying to ascertain if the woman was raped and killed at that spot or whether her body was dumped there.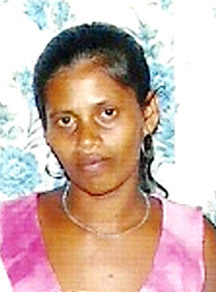 Residents came upon the woman's nude body around 6 am on Sunday and informed the police via telephone. Her body was taken to the Skeldon Hospital mortuary where it was later identified by her reputed husband, Lennox Kendall.
He had told Stabroek News that she had left home around 7.30 pm on Saturday to go to a pre-wedding party in the area. Persons later told him that she appeared to be heavily intoxicated.
She was last seen walking on the road after 11 pm.
He said after Persaud, who was originally from Hog Island, Essequibo River, did not go home that night he felt that she was still at the wedding house "sporting".
The following day he made some enquiries and the woman who she had gone with told him that she had sent her home around 11 pm.
He became worried and made a report at the Number 51 Police Station around 1.30 pm. The police then informed him that they had found the body of a woman.
He travelled with the police to the Skeldon Hospital mortuary where he identified her remains.
Around the Web