Cliffton Dowden yesterday denied that he was responsible for an office break-in and theft, telling acting Chief Magistrate Priya Sewnarine- Beharry at the Georgetown Magistrates' Court that he was given the stolen items to sell.
Dowden, of Lot 41 W North Sophia, allegedly committed the offence between July 22 and July 23, at the High Street office of Walter Amarnauth. He allegedly stole two office chairs, one plastic chair, one ice pitcher, $1,500, two calculators, measuring tape, screw drivers, two knives, staple machine, gloves and bandage valued at $146,500.
The man pleaded not guilty when the charge was read to him.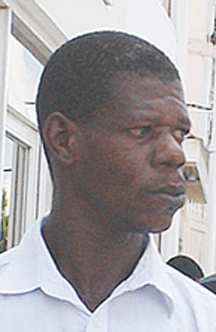 According to Police Prose-cutor Venetta Pindar, on the day in question, Amarnauth secured his office by means provided and went home. On July 23, he returned to the office and noticed the items mentioned in the charge missing. A report was made and the police, acting on information, went to Leopold and Cross streets where they saw the defendant and arrested him.
When given a chance to explain to the court what had transpired on the day in question, the accused said, "some guy gave me some things to sell, but I didn't know whey he get dem from. When de police pick me up de man who gave me the things to sell was in the police van and he indicate to de police that 'this is the man, is he thief de things.'"
The prosecution had no objection to the defendant being granted bail, which was fixed at $125,000.
The man, maintaining his innocence, asked the court for a reasonable bail since he has three minor children and he is very poor.
The matter would be called again on August 8.
Around the Web