One hundred and eighty-six female single parents and 169 students yesterday graduated with skills in six occupational disciplines, which it is envisaged will make them marketable in society.
The single parents and students were trained under that the Government of Guyana and United Nations Develop-ment Programme partnership programme Enhanced Public Trust Security and Inclusion (EPTSI) and the Single Parents' Programme.
Delivering the feature address, PPP/C presidential candidate Donald Ramotar charged the graduates to give of their best, and be mentors and motivators of peers in need. He also identified the need for technical/vocational skills in a world that is changing and developing continuously.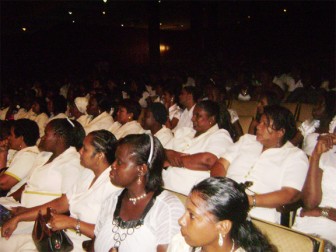 He stated that the graduates also need to always be researching and keeping abreast with what new technology develops in their specified fields.
"We need to spend more money to educate our people," he said.
Minister of Labour, Manzoor Nadir, spoke with pride about the change effected in the graduates, through the training. The location of his residence near to the Eccles training site, he opined, gave him the opportunity to make this observation. Their graduation therefore belies the saying "young people are up to no good." The minister urged the graduates to continue to do well, before wishing them well in the future.
He was pleased to state that since the programme was launched five years ago over 5,000 persons have benefited significantly. He pointed out that technical and vocational students were given tools for their specific trade to the value of $55,000.
Project Coordinator Coreen Connelly gave the report for both projects. The duration time for all courses was six months each. She informed that all of the 186 female single parents enrolled in the programme graduated compared to 169 of the 203 young persons enrolled in the UNDP/EPTSI programme. This was a graduation rate of 83%.
At present, 121 (35%) of the graduates are employed; 66 single parents and 55 youth. The coordinator however anticipates an increase in this area very soon.
Officer in Charge, UNDP /EPTSI Monica Sharma explained that in 2007 to 2008 UNDP, after identifying the needs for skills empowering at the community level, requested assistance of the Board of Industrial training to provide these skills to persons most needing them.
The graduation was held at the National Cultural Centre, and included graduates from Regions 4, 5, 6 and 10.
Around the Web