Young African Guyanese need to become more gainfully involved in activities that would see them creating positive pathways for themselves and their generation, according to well-known lecturer of the University of Guyana, Professor Joycelynne Loncke, who also strongly feels that there should be reparation for the hundreds of years of slavery.
The professor called on black youths to quit wasting time and focusing on quick money and look to becoming self-sufficient rather than sitting around waiting for anyone to create opportunities for them.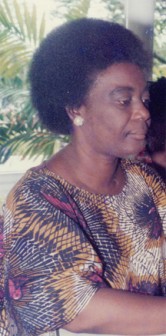 The distinguished African woman of the Guyanese soil also believes that the Guyana National Service (GNS) should become a reality again even if its focus were to just be on the training of youths, since, according to her, over the years she has seen the benefits of the service. She pointed out that should the GNS become a reality again many youths who are struggling would be given the opportunity to train and not have to worry about where their next meal is coming from or where to rest their heads at night.
Professor Loncke, who has spent more than four decades at the University of Guyana, in a recent interview with Stabroek News revealed that her wish for black youths to become more gainfully involved in the bettering of their lives is not just an idea but rather she has been doing her part as an executive member of the Pan African Movement.
The movement, which is the local arm of a worldwide body found in many countries, offers free classes for slow students in an effort to help them to get better. They are taught Mathematics, Social Studies and Reading on weekends at her Kitty home and when time permits some music is also thrown in.
Attention is also placed on training in areas such managing finances, agriculture and encouraging them to be self-sufficient "because it is not everybody who would find a job and you need to be prepared as a young person to turn your hands to something while you are waiting for something else."
Prof Loncke said she felt it was the opportune time for the United Nations to designate 2011 as the International Year of People of African Descent and she hopes the observation would help to instill new pride in black youths.
She said her movement has been doing what it can and one of the highpoints of its activities was a concert which provided the forum for children to display their skills.
"All over the world, persons of African descent have been …victims of racial discrimination…," Dr Loncke said adding that it is due mainly to slavery.
"Thank goodness we are coming out of that and I think this year [being designated by the UN for persons of African descent] is particularly an opportunity for us to find our feet.
"We deserve reparation, 400 years of slavery meant working free of charge for 400 years. Other nations like the Japanese got; Israel got reparation; but there was never any reparation for slavery," the professor said.
She said when you look at the African contribution to many countries, even in Guyana; it was the slaves who helped to build the infrastructure free of charge.
"I am hoping that in this year that our young descendants will find a new pride in their history which goes long back beyond the Bible and so it is not just like they just dropped from the sky with no ancestors, no tradition.
"Hopefully a new pride and I hope that young people would be able to resist the temptation, you know the temptation of wasting your time and focus on making quick money… They should keep strong and preserve their dignity."
And the professor rapped the notion among persons who sometimes conclude that only persons of African descent commit criminal acts, calling it a "distortion of reality".
However, she admitted that too many young people are tempted to be involved in criminal activities. And reacting to the argument that jobs are not available for many young people which sometimes forces them to be involved in criminal activities, Prof Loncke said her movement tries to instill in young people that they should become self-sufficient and not depend on anyone to make "your way for you".
"And they are so talented. Yes they may not be able to spell but give them something to make and they make the most interesting things…," she said about the youths she works with.
Educational success
On her life, Prof Loncke related that her success in the world of education was not surprising as she came from a family of teachers and while she may have followed that tradition, as a child, her wish had been to become a concert pianist.
"I loved music very much, but in my days there wasn't an opportunity to do further studies like a bachelors in music because we hadn't a university here in Guyana… the University of the West Indies didn't have a music faculty and I had gotten a scholarship to the University of West Indies," she said adding that her parents were not wealthy enough to send her to England for further studies.
At UWI, Dr Loncke chose what she described as her "second love", French, but music came so naturally to her that she kept on studying music outside the university. So while she was reading for her degree in French she was also taking lessons in music in Jamaica and playing at concerts. Her perseverance in her music paid off as at the end of her studies at UWI she was granted a scholarship to study for her doctorate in England and at the English university she got the opportunity to do music and French for her thesis which dealt with music in French literature.
A young woman at the time–she was just in her early twenties–Dr Loncke said that as she studied for her PhD "other activities flowed" and when she completed her studies she was faced with the exciting task of deciding what she wanted to do.
"You know when you are young there are so many exciting things that you can do," Prof Loncke said with a slight laugh adding that in the end she decided to come back to the Caribbean as she felt it was where she belonged. A few years were spent at UWI lecturing and then she returned to Guyana where the University of Guyana was in its formative years and was badly in need of persons to lecture in French. While she returned to Guyana with the intention of contributing to the French department at UG, the professor said she never expected to head the department but that is just what she ended up doing. The two persons who were heading the department–a husband and wife team from France–decided to return to their home country.
"So when I came I was the only person in the department and I had to try and build the department up…," Prof Loncke recalled. After all these years she is still at the university lecturing in French.
Her passion for music saw her assisting in establishing a music unit at the university where students were offered a certificate in music and today the French department has been merged into what is known as the Department of Language and Cultural Studies where music studies are still offered to early childhood teachers who attend UG.
Today Dr Loncke teaches two courses of music, history and two courses in French.
Criticisms
And despite the criticisms levelled at the country's highest learning institution, Prof Loncke, while admitting that a lot has changed since the early days of the university, said there was still a core of lecturers who work towards maintaining high standards. She noted that computerization has changed the dynamics of the institution and now there are over 5,000 students attending the university compared to the small numbers in years gone by. Computerization, which now allows students to even apply for a placement at the university online, is a necessity, Dr Loncke admitted, as it would be difficult to manually deal with thousands.
The professor said the university is in need of more funding and she posited that the government should be more appreciative of what the university does.
"Funding should be increased so that the facilities can be upgraded…" Dr Loncke said adding that there should be opportunities for students to have work attachments as part of their studies to better prepare them for the world of work.
On a personal note Prof Loncke said she never got married nor does she have any children, as, in her earlier years, she was always very busy and never really took the time to think about marriage.
"When I sat down now to say well it's time to get married, you know, the boat had passed," the professor said with laugh adding that the children in her family are happy to have a spinster aunt because she spoils them.
Around the Web