(Trinidad Newsday) Sheila Lataste-Burnham, 91, the  first wife of Guyana's first executive president, the late Forbes Burnham, was  described by her eldest daughter as a politician in her own right.
At the funeral service for Lataste-Burnham held at the Tranquility Methodist Church, Port of Spain, where she was baptised and married,  her eldest daughter, Roxanne Van West Charles, said her mother believed, "if you  did not vote, then you had no say."
Lataste-Burnham died on July 22, in St Vincent and the Grenadines.
Among those present at the funeral were Lataste-Burnham's sons-in-law, grandchildren, and Sharon Rowley, wife of Opposition Leader Dr Keith Rowley.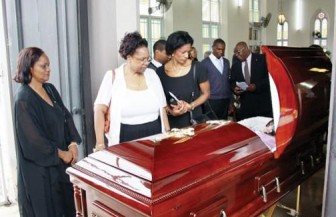 Lataste-Burnham, who was born in Woodbrook, became a household name along with other well-known women in Guyanese  politics, and is still remembered in Guyana even though she returned to Trinidad  after her marriage to Burnham ended in a divorce.
Lataste-Burnham and Forbes Burnham met in London, England, post-World War II while they were both  students. He was studying law, and she was studying to be an ophthalmic optician.
According to her second daughter, Anabelle Pollard, after the divorce Lataste-Burnham returned to Trinidad as a single parent, and remained  there until 2006, when she joined her daughter, Francesca Onu, in St Vincent and the Grenadines.
Onu said her mother had vowed never to live with any of her children and their families, but they found a way to get her to St Vincent and the Grenadines when she was diagnosed with Alzheimer's disease.
A friend for over 30 years and former Governor General of Grenada Dame Hilda Bynoe in her  tribute noted Lataste-Burnham was an avid story-teller who loved talking about  Guyana. She remembered her as a dancer and as someone who also loved gardening, but who most of all was  dedicated to her family and her profession of ophthalmic optician.
In T&T she worked at Imperial Optical, and was also in private practice.
Optometrist Joyce Ali said, "Sheila was a gentle and beautiful woman of an era that's gone."
General Manager of Imperial Optical, Rodney Boodoosingh, remembered her as a "strong professional and trustworthy woman."
Lataste-Burnham was later buried at Lapeyrouse  Cemetery. (Miranda La Rose)
Around the Web