Three persons are dead and several injured after the truck they were in, overturned while the driver was negotiating a turn at Bottom Arawak, Arimu in Region Seven yesterday.
Dead are Sheliza Garcia called 'Baby,' 22,  Joseph Perez called 'Cow,' 31, both of Third Avenue, Bartica; and Xavier Anthony, 29, of Nor-ton Street, Georgetown. They were pronounced dead on arrival at the Bartica Hospital to where they were rushed following the incident which occurred at around 9.30 am yesterday.
Several other persons sustained injuries and are hospitalized at the Georgetown Public Hospital. The driver of the truck also sustained injuries and was treated at the Bartica Hospital and sent away. Police took the man into custody where he is assisting with investigations.
Police in a press release said that at about 9.30 am yesterday, the truck, GMM 2441, was proceeding along a trail at Bottom Arawak, Arimu, with a load of fuel and nine passengers, seven of whom were in the tray of the vehicle, when the driver lost control of the vehicle while negotiating a turn.
"Consequently the vehicle turned over resulting in injuries to the driver and passengers," the statement said. They were all taken to the Bartica Hospital where Garcia, Perez and Anthony were pronounced dead.
Five more passengers were referred to the GPHC while one has been admitted to the Bartica Hospital. The driver was treated and sent away and is in police custody assisting with the investigations, the statement said.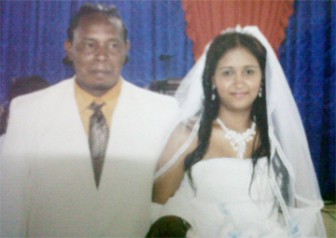 The injured persons who were flown down from Bartica following the accident are miners Nigel Joseph and Ivor Garraway, as well as Olinda George, a cook for the mining camp. Subsequently two more accident victims were admitted to the GPHC, namely, Alicia Wong, 22, of 154 Second Street, Herstell-ing and Michael John, 34, of 1½ Point Bartica.
According to George's sister Barbara, the 49-year-old who was going into the "backdam" for the first time, broke both her legs. Barbara also said she had been told by George that she thought the truck would turn over because it was going at a fast rate.
Garraway, 40, sustained head injuries, while 46-year-old Joseph sustained a broken leg and spinal injuries. The latter said that there were two trucks – "one coming and one going" – when tragedy struck.
At Garcia's home last evening, relatives were preparing for a wake. Garcia and Perez had gotten married two years ago. Perez operated a dredge at Quartzstone and his wife operated a snackette there. They were returning to the gold-mining area when the incident occurred. They had left Bartica at 3am.
Garcia's father, Gregoria Garcia told Stabroek News that Perez normally drove his pick-up to site but this was not possible recently due to the poor state of the road.
A neighbour informed him of the incident. "She sey she hear me son in law dead but not me daughter," he recalled. "But when we go to the hospital all two of them come down dead."
Garcia said that he was not told much about the accident but noted that the truck was laden with supplies and fuel. Both his daughter and son in law suffered severe injuries, he said. Reports said that the truck was climbing a steep hill when the driver lost control and it began rolling backwards before toppling. There were reports that while Perez died on the spot, Garcia succumbed while being transported to the hospital.
After the incident, the injured were transferred by truck to Itaballi, then a boat brought them to Bartica, arriving after midday.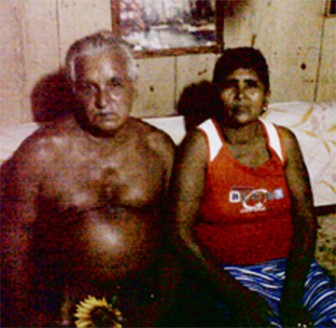 Garcia had a child before her marriage: a four year old boy while Perez also has a son.  They had worked together even before they were married. "All two of them does go in the bush together and come out together," the grieving father recalled.
She is Gregoria's youngest daughter. He has two other daughters and three sons.
Gregoria said that he last spoke to his daughter on Friday night and they had discussed the purchase of cement to strengthen the foundation of the house which she had promised to do. She did not call to tell him that she was leaving yesterday as she normally did but had promised to call when she arrived, he said.
"This is me backbrace. She does help me a great lot when me sick or anything," he said. "Dem left here good. She ain't sick or anything. Dem ain't sick," the man lamented.
Relatives who gathered at the home lamented the "cruel" death. "If I deh know that woulda happen I woulda tell she this morning [yesterday] don't go," he said. "She nah reach half of me age."
He recalled urging his daughter to get out of working in the interior. "Bush good and bush bad," he remarked.
Gregoria said that the owner of the truck has promised to stand all the expenses for the funeral.
He said that his daughter was friendly. She is survived by her parents, siblings and other relatives.
Police are continuing their investigations into the incident.
Around the Web