Chevy Charles Jhingoree, the third person who died in Saturday's accident at Bottom Arawak, Arimu was returning to work after being summoned by his boss – the owner of the ill-fated truck, relatives said.
Jhingoree, 29, a miner of Lot 14 Norton Street, Wortmanville, died along with husband and wife, Joseph Perez and Sheliza Garcia in the accident which occurred when the truck they were in toppled over while negotiating a turn in the Region Seven gold mining district on Saturday.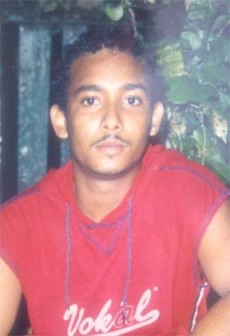 Six others sustained injuries and five were admitted to the Georgetown Public Hospital where they remained yesterday. The driver, who was slightly injured, remains in police custody.
Jhingoree's fiancée, Wendy Wilson, identified the body at the Lyken's Funeral home yesterday. She said that early Friday morning, Jhingoree received a call from his employer who said that he was needed in the interior. "He was home doing something you know… he shoulda never go," the grieving woman said.
Another relative stated that she has observed that the owner of the vehicle has offered to stand all funeral expenses for the two other victims.
The truck owner has not yet contacted them on whether he would do the same for Jhingoree, she said. "He working with them…is they responsible for him," the upset woman said.
Jhingoree's aunt, Avril Blackette said that he had returned from the interior over a month ago. He had worked in the interior for the past ten years but this was the first time he was working with the truck-owner, she said. Up to late yesterday, the family said that the truck-owner had not contacted them.
Jhingoree is the father of three children: ages four, six and 12.
Around the Web