Lindeners are being encouraged to take advantage of the business opportunities in supplying agricultural produce with government looking at food availability in the face of rising prices here.
The mining community was last Saturday the site for the first in a series of 'Grow More Food' festivals being held by the Ministry of Agriculture.  A large number of residents turned out to view the exhibits, make purchases and enjoy the stage show.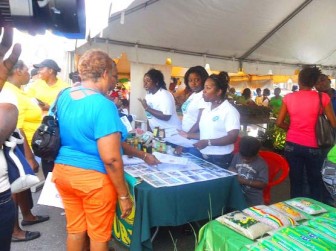 Items ranging from craft to cash crops were on show and Minister of Agriculture, Robert Persaud, Minister of Transport and Hydraulics, Robeson Benn and Minister of Health, Dr. Leslie Ramsammy were in attendance and met residents.
In a brief message, Persaud underscored the potential of exporting local produce. He pointed to the findings of the Food and Agriculture Organization which observed that Guyana and one other country within the hemisphere were able to successfully cut hunger in half. "…That is a proud achievement but while we have made progress we cannot become complacent," said Persaud. This is one of the reasons for the restarting of the Grow More Food Festival since it is seen as one of many ways of reminding persons of the importance of getting involved in food production, he said.
The minister said that it is important for Guyanese to note the rise in food prices around the world and the fact that Guyana does not have enough food to export presently. "Recently we have seen food prices going up on our local markets so much so that we are looking at ways in which to ensure that we have more than we need locally available and doing some for our restricted exported foods," said Persaud.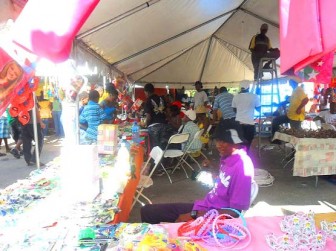 He urged residents of Region 10 to become involved in food production. The Ministry does not want to see locals left behind in the agriculture transformation which is why the government has invested and will continue to invest more, the Minister said. According to Persaud, for this year government intends to spend close to $153M in the drainage and irrigation sector. "Just two days ago we approved $22M whereby we'll be giving the people of Region 10, we're not bringing outside contractors in, but they are giving the ordinary, hard working people of Region 10 to be part of their infrastructural development," he stressed.
Persaud commended the Ministry of Transport which he said has been expending large sums of money in road repairs and ensuring not only farm-to-market access but also remote areas are accessible which is important in complementing the work of the Agriculture ministry. "We know that Region 10 has had its good and bad times," Persaud said adding that his ministry will be around to work with residents during the bad times to ensure challenges are overcome.
Addressing residents between offerings of stage entertainment, mainly by Shelly G, Benn challenged residents to take up available opportunities in the agriculture sector noting that they need to explore produce grown in other regions and sold to Linden. He said that many different types of crops can be grown in Linden and fulfill the market demands of surrounding communities and interior locations.
"Outside of bauxite and forestry there is that opportunity," Benn said. He emphasized the importance of kitchen gardening which has the potential of reducing the economic stress being experienced by many. The activity got started in excellent weather late Saturday afternoon and culminated around 9:00pm. Several persons commented that the activity was a worthwhile one but should have seen the involvement of more Linden farmers and other producers.
Around the Web