PPP/C Presidential Candidate and member of the Guyana Sugar Corporation (GuySuCo) board Donald Ramotar has urged workers to capitalise on the opportunities available in the industry, as investment in it is investment in Guyana.
According to a Govern-ment Information Agency (GINA) press release, Ramotar, who is also a Presidential Adviser, told workers at a ceremony, held in their honour at the Blair-mont Community Centre, that government has demonstrated outstanding and prudent management of the economy and its resources and "that the sugar industry like any other sector speaks for itself."
He said Guyana is no longer producing sugar to build foreign societies, but to build its own and the industry boasts a good stock of managers, several ofwhom were trained in the industry. Ramotar also noted that many problems worldwide stem from a global food crisis; "the price of food is increasing and Guyana, a producer of food gives us the opportunity to tap into greater markets while being able to satisfy both the global and regional needs."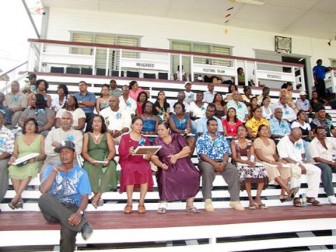 In his address, Minister of Agriculture Robert Persaud gave assurances that government will continue to safeguard the wellbeing of all sugar workers and urged them to be vigilant about persons who may "misguide" them "to create mischief." The minister said over the past eight years government has injected more than $40B into the sugar industry and "Our Govern-ment is committed to the industry and that commitment to workers cannot be questioned…I want to assure you that as we go forward, I am confident that the sugar industry will continue to get the type of support it needs."
GINA said workers from the Skeldon, Albion, Rose Hall and Blairmont estates, Enmore, LBI, Wales, Uitvlugt and the Demerara Sugar Terminal were honoured at the ceremony.
Around the Web