There is nothing preventing proprietor of the Celina Atlantic Resort, Bernard Yhun, from expanding the facility, which is located in the environmentally-sensitive area north of the seawall next to the Kitty pump station, according to his lawyer Manoj Narayan.
The Guyana Lands and Surveys Commission (GLSC) is in a legal battle with Yhun over the lease to the site.
"With regards to the GLSC, there is no stipulation or prevention that says he can't," Narayan, however, told this newspaper.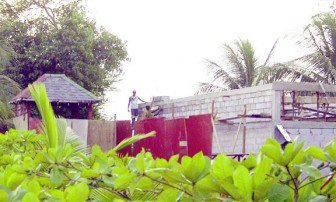 The lawyer explained that the GLSC had applied to have his client removed from the premises because of non-payments on the lease. The court, he added, subsequently denied that application by the GLSC and any of its officers/agents/servants to have Yhun removed.
Narayan further stated that the GLSC had also wanted to prevent his client from erecting structures on the land, and as such had also made such an application. This too, Narayan stated, was dismissed by the High Court.
However, the matter is still to be finally determined in the High Court.
When this newspaper contacted Doorga Persaud, Chief Executive Officer of the Commission, he said he would have to check their documents with his lawyer before making a statement.
Some while ago when Stabroek News had noted large quantities of construction material being ferried to the location it had approached an official of the resort on whether expansion works were being done. The official at the time denied this and said only repair work to the decking and other areas was being done.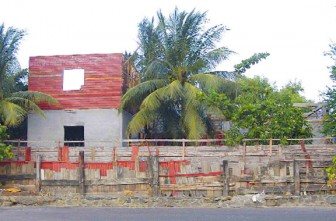 The Commission had written Yhun, who owes over $3M in rent, in December 2010 saying that he was unlawfully occupying the land and as a result would have to remove all buildings and erections within three months.
Yhun, however, challenged the Commission's authority to remove him from the land and was granted temporary orders. Yhun in an affidavit in support of his motion said that President Bharrat Jagdeo granted him a lease for 50 years, commencing July 1, 2003 for tourism purposes.
The judge granted an Order or Rule Nisi of Certiorari directed to the Commissioner of Lands and Surveys Doorga Persaud, a public officer, and the Guyana Lands and Surveys Commission, a body corporate and a public authority, quashing a decision of the said Commissioner and Commission, contained in a letter dated the 20th day of December, 2010, cancelling State Land Lease No. A 15377, issued to Yhun. Orders were also granted restraining and prohibiting the Commis-sioner and Commission, their servants and/or agents from doing any thing or from taking any steps whatsoever to remove Yhun's buildings and erections, and for the Commission to show cause why it should not be compelled to accept $3,375,000 from Yhun, being arrears for rent due.
Yhun challenged the Commission's cancellation order on the ground that it is "arbitrary, capricious, unreasonable, whimsical, influenced by extraneous and irrelevant considerations, ultra vires, in breach of and contrary to the rules of natural justice, in breach of and contrary to his legitimate expectation, in breach of and contrary to the State Lands Act, Chapter 62:01, unconstitutional, unlawful null, void and of no effect."
Around the Web