The United Nations and the Guyana Government yesterday signed a new United Nations Development Assistance Framework (UNDAF), which focuses on sustainable human development.
The signing ceremony was held at The Foreign Service Institute, Georgetown.
The UNDAF is designed to be implemented through the period 2012-2016, and aims to put sustainable human development mechanisms in place to deal with areas such as economic growth/development, good and inclusive governance, social development, inclusiveness and environmental responsibility, which are also embodied in the Millennium Development Goals.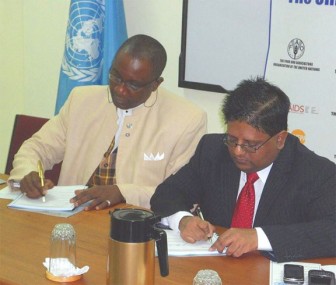 Chairperson of the ceremony, and Senior Advisor on Governance Gail Teixeira expressed gratitude to all who contributed to the completion of the document. She outlined the thematic priorities of the UNDAF, and stated that government anticipated the implementation as mandated by the UN. Equity in access to social and economical opportunities for all Guyanese, regardless of race, gender, ethnicity, religion or geographical location are the objectives of the UNDAF, which aim at making the life of the Guyanese populace better, she informed the gathering.
In his address, United Nations Resident Coordinator Dr. Suleiman Braimoh acknowledged the long hours and unstinting work of individuals dedicated to the completing of the document. He, however, stated that unfortunately that was the minutest part of the project, since the only way an UNDAF "can be of any meaning is through its implementation in the lives of the people of Guyana."
In addition, he stated that his organisation and other partners "look forward to the UNDAF being the vehicle that actively brings very important changes and improvement to the lives of the people of Guyana, and not just a document signed on paper." He further stated that coordination may pose a challenge for government and the UN, but he hoped that with introspective analysis, both parties can realise that the key to moving forward and achieving desired results with regards to the UNDAF is with better coordination and stronger partnerships.
Minister of Finance Dr. Ashni Singh, who signed on behalf of government, thanked all contributing stakeholders, including government, civil society and international organisations, for efforts expended in preparation of the document. He noted Braimoh's plea for better coordination, but assured the Guyanese people and stakeholders involved of the unwavering support that his government will give in completing the mandates outlined in the UNDAF.
Around the Web