President Bharrat Jagdeo yesterday approved the release of $216 million to the Mayor and City Council (M&CC), to pay garbage contractors and city's workers and enhance the capital.
According to the Deputy Mayor Robert Williams, $120 million will settle the city's debt to garbage contractors, $74 million will be used to pay off the debt to workers, $16 million towards the restoration of the Le Repentir Cemetery, while the remaining funds will contribute to the general enhancement of the city.
Since garbage contractors withdrew their services earlier this month, citizens began disposing of their garbage at various sites, especially around commercial areas. The stench, in many parts of the city, had become unbearable, many residents complained.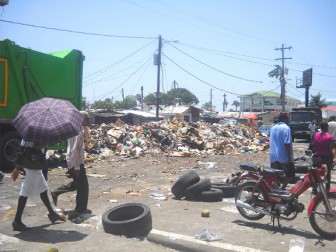 Officials of the municipality met with President Jagdeo at the Office of the President, along with Minister of Local Government and Regional Development Norman Whittaker and Permanent Secretary Nigel Dharamlall, Minister of Finance Dr. Ashni Singh, Minister of Transport and Hydraulics Robeson Benn and President of the Federation of Independent Trade Unions Carvil Duncan.
The announcement, William noted, came after discussions of the condition of the city. He also said that workers will be paid immediately after the money is released.
At a media briefing, Williams explained that rehabilitation of the cemetery will commence under the coordination of Benn. In addition, Benn and Whittaker will coordinate the enhancement programme. Also, the City Council has been asked to increase its supervision over the construction of new buildings, Williams noted.
He further stated that the president has also expressed concern about the demolition of buildings in Georgetown. A list has been presented with  over 32 buildings that have been identified as fire hazards and the City Council wants to take action sometime in the coming week to have these unoccupied buildings demolished. Those that are occupied will also be taken down.
Another priority of the government is to have the Guyana Power & Light (GPL) install an electrical connection to the Liliendaal pump, which will serve to prevent flooding during power outages in the area.
Mayor Hamilton Green told Stabroek News that he was not invited to the meeting.
Around the Web