A Linden businesswoman is counting her losses while singing praises that her life was spared, after she was held at gunpoint yesterday morning and robbed of a quantity of cash and jewellery.
Lavern Griffith, also known as 'Lovie,' operates the eating house along Co-op Crescent known to most residents as "Chicken cook shop." It was shortly after 9, as the Griffith was about to step out of her shop, when she was held at gunpoint by two men.
"Two guns to my head, you could imagine that, two guns," she recalled. "These two men just step up on me and seh 'geh meh all wah yuh ga.'" With that, one of the men pulled off two gold chains she was wearing. One then entered her pocket, pulling out approximately $100,000 cash she had on her, before making good their escape.
The two bandits, believed to be in their late teens or early twenties, were unmasked; they wore caps pulled down over their faces. The men ran through the market extension area before running off into different directions. One ran east along Republic Avenue, while the other went north into Pine Street. "I seh me aint teking dis suh, so I decide to run behind the one in ice house street (Pine Street) because he was de one who had meh money and meh chains," Griffith added.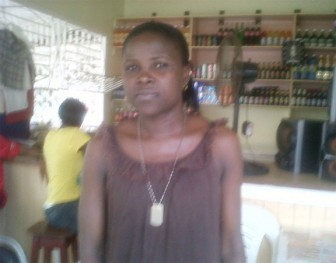 All along, the woman shouted for "thief," which prompted the fleeing bandit to fire several shots in her direction. Several persons responded to her alarm and gave chase, including taxi-cab drivers and pedal cyclists, but they were kept at bay by the gunfire. "All de firemen came out, everybody, only de police tek forever to get on the scene," she said.
Although the bandit was eventually cornered, as residents tried to call the police, he emerged out of the bush and pointed his gun at them. They dispersed, allowing him another escape attempt. He ran east and eventually hid in another set of thick bushes.
By this time the crowd thickened, but the police did not arrive until approximately 45 minutes after. Efforts by the police and residents to find the man were foiled by persons living nearby, who refused to cooperate by allowing access through their yards to get to where the bandit was hiding.
Griffith said person's spirits were further dampened after she left the scene on the order of police. She said she spent a long time giving a statement.
Griffith was still traumatised yesterday morning and cold be seen weeping while attempting to do her usual cooking and serving customers. "I glad my son wasn't with me yesterday because he would go everywhere with me," said the woman, as she broke down into tears. She added that at the time of the incident, her sister and another worker were in the shop behind the counter.
The incident occurred minutes after Griffith had spoken to police ranks who were on patrol in the Mackenzie Market area. "Is nah a proper two minutes after I come back from deh police vehicle from chatting with them guys, this thing happened," she said.
Up to press time no arrests had been made. The incident has sent a wave of discomfort among the business community, especially those in the market centre at Mackenzie. "What Rohee doing bout dis thing, this is getting out of hand and people would want to be doing business after certain time now," said one businessman. Others recalled recent robberies, including the one that claimed the life of popular businessman Albert "Bolo" Joseph.
Around the Web